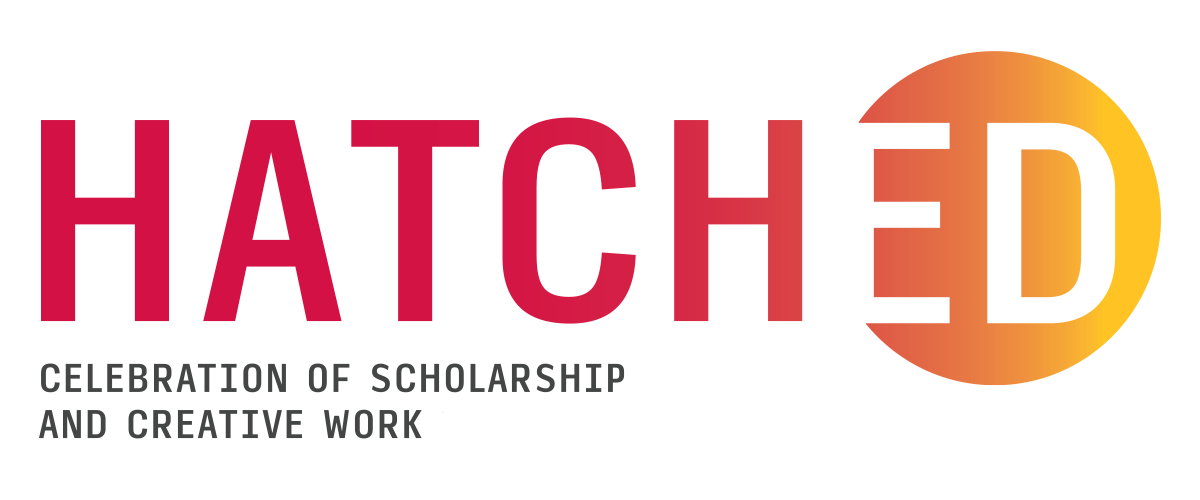 It's Time to Submit Your Work
This year we will be using Digital Measures as the place to submit for Celebration of Scholarship and Creative Work (CSCW). Any work(s) completed between November 1, 2020 through October 31, 2021 are eligible to be included. See details below. CSCW takes place on February 24, 2022 from 4-6 PM.
HatchEd is Ferris State University's conference for innovators and would-be innovators from every college and department across Ferris. HatchEd empowers exploration and creates an environment where you can make unexpected connections.
The purpose of the Celebration of Scholarship and Creative Work is to honor faculty, staff, and students for their original work that has already been recognized outside of Ferris. The event showcases Ferris individuals who have published, presented, exhibited, or performed a scholarly or creative work in a professional setting between the dates of November 1, 2020 and October 31, 2021.
Submissions for CSCW need to be entered in Digital Measures by October 31, 2021.
Examples of scholarly or creative work include:
Fiction book
Non-fiction book
Scholarly article
Documentary
Short story
Book chapter
Presentation
Poem
Poster
Art exhibit
Creative expression
Performance
The Celebration of Scholarship and Creative Work event is sponsored by Ferris Library for Information, Technology and Education (FLITE), Kendall College of Art and Design Library, Ferris Extended and International Operations, and the Office of the Provost and Vice President for Academic Affairs.
For questions, contact [email protected] or (231) 591-5824.
1. Work must be published, displayed, presented, or acted between November 1, 2020 and October 31, 2021.
Pre-Press Journal articles that have not been published yet in print, but are on-line, will not be accepted until they are published in print if the journal is a print journal.
2. Work must be original.
Copy editors who correct grammar are not recognized; however, a main editor who compiles a work as a whole is accepted. This type of editorial work may include placement of texts, creating a unified voice, moving the reader to some point of view(s) and conclusion, and writing the preface and summary.
Reviewer work is not accepted unless review is substantial (scholarly, footnoted, and lengthy). Reviews that are one or two paragraphs long are not accepted.
3. Work must be recognized by a committee or group outside of Ferris.
The work does not necessarily need to be peer-reviewed but the work must have been submitted for inclusion and chosen while someone else's work was denied. For example, a painting submitted to a gallery for sale would not be recognized but work accepted to be a gallery exhibition would count. Works that are self-published or published on someone's blog or website, with the blog or website owner being the only reviewer, are not accepted.
Work recognized in an online journal may be accepted if decisions are made by a committee.
Work done in a public space where there is no oversight, such as performance art showcased at a mall, is not accepted.
Work published in a Ferris venue such as Kendall's Helen Miller Kendall Gallery for graduate work (HMK Gallery) or in Ferris' Doctorate in Community College Leadership (DCCL) publications such as DCCL Perspectives are not accepted.
Student work done in or for a class is accepted if it receives outside recognition. For example, a student's publication won an American Advertising Award (ADDY) and was subsequently accepted by the Celebration committee, even though the book had not yet been published by a company.

Be sure to submit for CSCW through Digital Measures by October 31, 2021