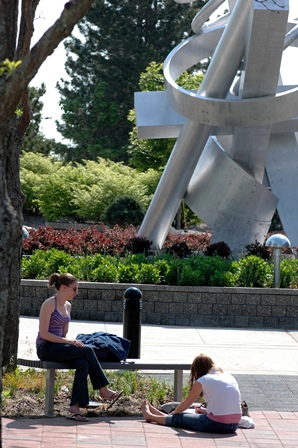 At Ferris State University, we value transfer students and their experience and knowledge. No matter where you are transferring from, there are a number of resources and services available to help you meet your goals. Please click on the links to the left for more information or read below to learn more about our services.
Transfer Guides & Agreements
By collaborating with transfer institutions, Ferris State University has established program transfer guides and agreements to help students transfer smoothly. Students follow the transfer guide to take specific classes that will fulfill degree requirements at both of the postsecondary institutions.
Michigan Association of Collegiate Registrars & Admissions Officers
(MACRAO) Transfer Agreement
Ferris State is a member of the MACRAO Michigan College Transfer Network and adheres to the MACRAO Transfer Agreement. The MACRAO Transfer Agreement was designed to facilitate transfer from community colleges to baccalaureate colleges and universities. It provided transferability of up to 30 semester credits to meet many (and in some cases all) of the General Education requirements at participating Michigan four-year colleges and universities. Students were able to complete the MACRAO Transfer Agreement as part of an associate degree or as a stand-alone package.
Students who started college prior to fall 2014 were able to complete the existing MACRAO Agreement through the end of Summer 2019. Irrespective of time, if a student has a "MACRAO Satisfied" endorsement previously placed on their transcript, Ferris will still honor it in the best interest of the student.
Michigan Transfer Agreement
Ferris State University participates in the Michigan Transfer Agreement (MTA) and is both a sending and receiving institution. This agreement facilitates the transfer of general education requirements from one Michigan institution to another. Students may complete the MTA as part of a degree program or as a stand-alone package. The MTA consists of a minimum of 30 general education credit hours as identified by the college or university.
Students transferring to Ferris with the Michigan Transfer Agreement (MTA) and entering a degree program will have met a 30 hour block of lower-level general education courses. However, this does not exempt students from completing program specific prerequisites or higher-level general education course requirements. Students should contact their advisor regarding classes that meet the MTA.
Ferris students pursuing the MTA should contact the Registrar's Office to request an MTA audit.
Reverse Transfer
Reverse transfer agreements allow students to earn their associate degree from a two-year college while working toward their bachelor's degree at Ferris State University. Reverse transfer is a degree-completion opportunity for students who have started their education at a community college and transfer to Ferris State University prior to the completion of their associate degree. The reverse transfer agreement provides students an opportunity to earn a credential prior to receiving their bachelor's degree.