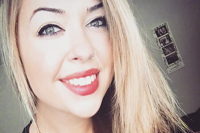 Beyond Project Looks to Globalization, Encourages Student, Faculty Involvement

OIE is hosting the events, presentations and discussions, offering students opportunities to consider diverse perspectives. more... 
Bulldog Beginnings Events Welcome Students to Campus for 2015-16

Ferris is ready to welcome back students with its annual series of Bulldog Beginnings events to kick off the Fall 2015 semester. more...
News Headlines
» Important Dates for Start of Fall 2015 Semester
» University Launches Haven Online Sexual Violence Prevention Program
» Students with Children Program Recognized for its Efforts
» Princeton Review Honors Digital Animation and Game Design Program
» Inaugural 'Zero Trash Day' Event is Set for Aug. 27-28

» Bachelor of Integrative Studies Program Recognized in Online Ranking
» Transitions to Success Student Orientation Program Set for Sept. 2
» UREC to Host Annual RecFest Event as Part of Bulldog Beginnings, Sept. 1
» Student Organizations Collaborate to Host 'Silent Disco' Event, Aug. 31
» Read More Ferris State University News Headlines