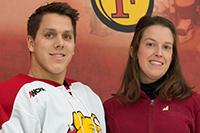 Ferris Hockey Blueline Club Gives $25,000 to 'Be a Playmaker' Campaign

The Ferris hockey Blueline Club is helping to ensure Bulldogs men's hockey remains among the top teams in the country with a $25,000 commitment to the "Be a Playmaker" endowment campaign. more...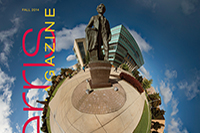 Ferris Magazine Honors 130th Anniversary of University

The fall 2014 edition of Ferris Magazine commemorates the 130th anniversary of the founding of what is now Ferris State University. more...
News Headlines
» This Week at Ferris (Nov. 17-22)
» Volleyball Wins GLIAC Tournament; Earns NCAA Tourney Bid
» Football Caps Undefeated Regular Season, Earns NCAA Bid
» Alumnus Jason Proctor Named Oklahoma's Teacher of the Year
» University Hosts Native American Heritage Month Activities
» Read More Ferris State University News Headlines