Jeff and Annette Rowe Donate $1.5 Million to Pharmacy Forward Initiative

The gift includes funding for the renovation of the Hagerman Pharmacy Building and scholarship for students accepted into the Pharm.D./Master of Business Administration program. more...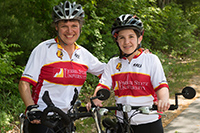 Alumni Association's Third Annual Bulldog Bike Tour Coming Up on June 20

The Bulldog Bike Tour is scheduled for Saturday, June 20 from 6 a.m. to 6 p.m. The annual event supports scholarships for Ferris State University students. more... 

News Headlines
» Miller Scholarship Encourages Students to Pursue Community Pharmacy
» Ferris Rates Well in Brookings 'Value-Added' Rankings
» Student Research Fellowships Announced for Summer 2015 Semester
» Karafa Appointed Interim Dean of College of Arts and Sciences
» Information Technology Services to Launch New Version of myFSU May 29
» Associate Provost Honored as a Distinguished Woman in Higher Education
» Summer Academic STEM Camps to be Offered for Teens
» Read More Ferris State University News Headlines