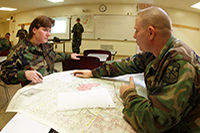 Veteran-Friendly Programs Earn University a Gold Rating

MVAA, housed within the Michigan Department of Military and Veterans Affairs announced that Ferris is among 28 institutions of higher learning receiving gold-level status in their Veteran-Friendly School program. more... 
Bulldog Beginnings Events Welcome Students to Campus for 2015-16

Ferris is ready to welcome back students with its annual series of Bulldog Beginnings events to kick off the Fall 2015 semester. more...
News Headlines
» Important Dates for Start of Fall 2015 Semester
» Fridays are Ferris Pride Days, University Involvement Encouraged
» A Letter to Students from the Dean of Student Life, Leroy Wright
» Stadium Drive Area Project Impacts Campus Pedestrians, Motorists
» University Launches Haven Online Sexual Violence Prevention Program
» Transitions to Success Student Orientation Program Set for Sept. 2
» Read More Ferris State University News Headlines