ISI's Gogolin Awarded Fulbright Scholarship to Teach in Chile
Ferris State University professor Greg Gogolin has received a Fulbright Scholarship to teach this fall at the University of Chile in Santiago. more...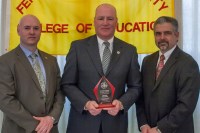 St. Clair County Sheriff Donnellon Receives COEHS Distinguished Alumni Award
Tim Donnellon, sheriff of St. Clair County, has received a 2013 Distinguished Alumni Award from the College of Education and Human Services. Donnellon graduated in 1987 with a Bachelor of Science degree in Criminal Justice, with high distinction. more...
News Headlines
» Alumnus Searles Honored with a University Pacesetter Award
» Pharmacy Alumna Schalk Honored with Pacesetter Award
» Pharmacy Alumnus Phillips Honored by Ferris with Pacesetter Award
» Inventor, Businessman Suman Honored as Distinguished Alumnus
» Businessman, Humanitarian Berden Named Distinguished Alumnus
» Faculty, Staff Awarded Ferris Foundation Exceptional Merit Grants
» Read More Ferris State University News Headlines