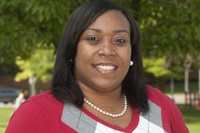 #FerrisSocial Conversation: Kia Hunter, GEAR UP Coordinator

Kia Hunter hails from Detroit. She graduated from Cass Technical High School in 2001. After graduation from high school, she chose to attend Ferris State University. She has earned bachelor's and master's degrees from Ferris. more...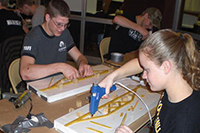 The 15th Annual Spaghetti Bridge Competition Set to Begin March 22

The 15th annual Spaghetti Bridge Competition on Saturday, March 22 from 12:30 to 5 p.m. and Sunday, March 23 from 11 a.m. to 2 p.m. in the Granger Center for Construction and HVACR Atrium. more...
News Headlines
» This Week at Ferris (March 17)
» Arts and Sciences Instructor Talks SowHope for Women's History Month
» Multicultural Exchange Presents Events for Students to Engage and Learn
» Alumna Linda Ward Appointed to State's Board of Cosmetology
» Snyder Names Alums to Indiana-Michigan Boundary Line Commission
» Students Can Assist Homecoming Planning, Gain Valuable Experiences
» Read More Ferris State University News Headlines