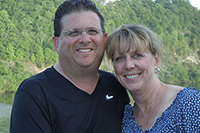 The Proctor Family Scholarship to Help Future Ferris Pharmacy Students
For the Proctor family, Ferris provided a high-quality education, as well as opportunities for community involvement and extracurricular activities. It's also where two generations of Proctors met the loves of their lives. more...
Trimarco Scholarship Endowment to Benefit Ferris Criminal Justice Students

When Lynn and Gary Trimarco moved to Big Rapids 15 years ago, to open a business, they became advocates for the community and Ferris State University. more...

News Headlines
» This Week at Ferris (Jan. 26-30)
» SAGC to Participate in Student Engagement and Philanthropy Month
» Honors Program Students to Showcase Artistic Skills Set for Jan. 30
» Ferris First (#Ferr1s): Mikaela Mason
» Students Encouraged to Audition for the 2015 'Ferris Has Talent' Event
» University Seeks Nominations for 2015 Academic Affairs Awards
» Ferris and BR Collaborate to Kick off 2015 Festival of the Arts Celebration
» University and Dial-A-Ride Announce Plans to Continue Shuttle Service
» DisArt Festival to be Held in April 2015 in Grand Rapids
» Read More Ferris State University News Headlines