Click on the video to see highlights of 2016 at Ferris State University.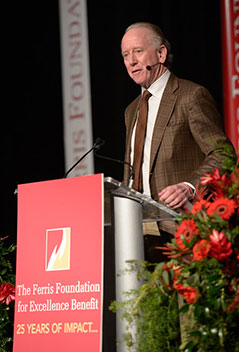 There was record attendance for the 18th annual Ferris Foundation for Excellence Benefit held Friday, Nov. 4 at DeVos Place in downtown Grand Rapids. Archie Manning, who is arguably the country's most famous "football father," was the keynote speaker. Follow the link for a photo gallery and video review.

Watch for your Dean's appeal due to arrive in the mail in the coming weeks.
Your gift to Ferris can support a multitude of programs including scholarships, academics, athletics and other critical initiatives. Be a Bulldog for Life.
Additional Information:
The PGA Golf Management program at Ferris State University has announced a $4 million dollar fundraising campaign to build a state-of-the-art learning center that includes a more functional indoor practice facility for year-round golf instruction and practice.

Donors to the campaign will shape the futures of the Ferris PGA Golf Management program, the lives of students and the profession of golf management.
Want to view more news like this? Visit the FERRIS ADVANCE blog!