Pilgrim Receives Diversity Visionary Award from INSIGHT Into Diversity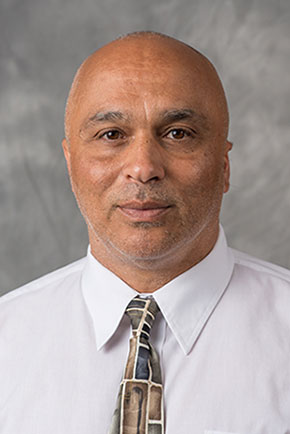 David Pilgrim, vice president for Diversity and Inclusion at Ferris State University, has received the "Diversity Visionary Award" from INSIGHT into Diversity.
This national honor was announced in June 2014 by Lenore Pearlstein, publisher of INSIGHT Into Diversity Magazine and owner and president of Potomac Publishing, Inc. Pearlstein cited Pilgrim's "vision, dedication and long-term commitment to diversity and inclusion" among the criteria for his selection as the award recipient. Pilgrim is expected to be officially recognized in an upcoming issue of INSIGHT Into Diversity Magazine's Visionary Award recipient section.
"I am humbled to be honored with this Diversity Visionary Award from INSIGHT Into Diversity," Pilgrim said. "Although we still have weighty work to do, we should never lose sight of the substantial progress we've made toward making Ferris more diverse and inclusive. Also, thanks in large part to the Jim Crow Museum, Ferris has played a role in advancing the national dialogue on issues related to diversity and inclusion. For that, we should feel proud. I am blessed to be part of a great team, at Ferris, and it is our collective efforts that make it all the more gratifying to receive this national honor from INSIGHT Into Diversity."
Pilgrim is also founder and curator of the university's internationally-recognized Jim Crow Museum of Racist Memorabilia – a 9,000-piece collection of artifacts located in the Ferris Library for Information Technology and Education on the Big Rapids campus. The museum uses objects of intolerance to teach tolerance. Pilgrim's writings, many of which can be found here, are used by activists, scholars and students to strengthen historical knowledge and to more fully understand contemporary expressions of racism.
Franklin Hughes, multimedia specialist in Ferris' Diversity and Inclusion Office, successfully nominated Pilgrim for the award.
For more than 40 years, INSIGHT Into Diversity has worked to connect potential employees with institutions and businesses choosing to embrace a workforce more reflective of local and national communities. More recently, INSIGHT Into Diversity has made efforts to advance the national conversation about diversity and inclusion through interviews and articles that highlight experts, innovators and leaders as well as initiatives and programs.
To learn more about INSIGHT Into Diversity, visit the website here.

For more information about Pilgrim, visit here.