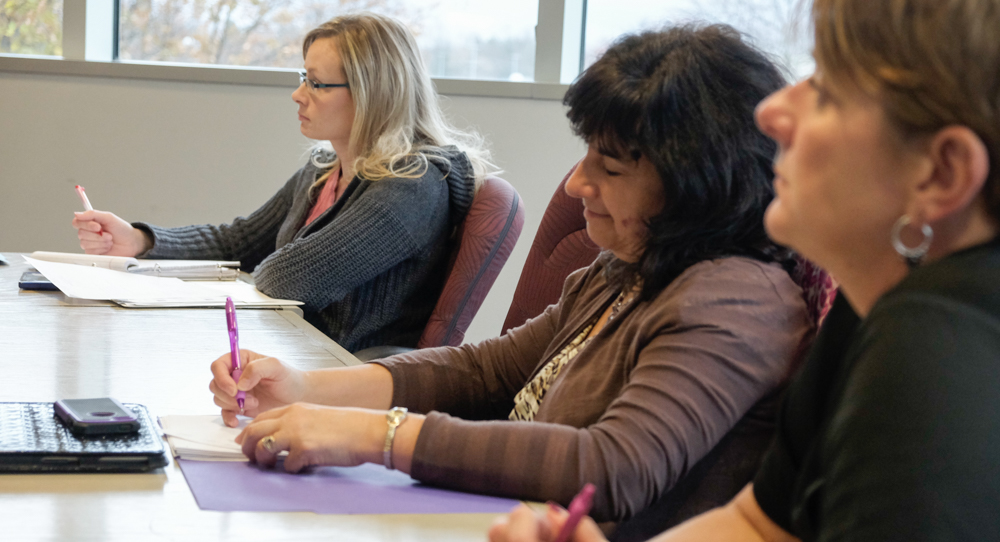 To: Administrative Employees
Date: June 9, 2016
From: Christi Swank, Chair, and on behalf of the Administrative Council
Subject: Open Forum Updates
The Administrative Council would like to provide an update regarding our member open forums.
The Administrative Council was established in January 2012 with a purpose to:
act as a representative body for non-represented administrative and professional staff at Ferris State University (currently comprising approximately 300 members below the director title level);
represent administrative employees at the Leadership Council; and
provide input from Administrative employees.
Based on our purpose, the Council held three open forums during February 2016 yielding very good attendance and open discussion from attendees. Special thanks to all who attended the open forums! Many attendees expressed positive feedback regarding their experiences while working at Ferris and appreciation for many of the benefits employees receive. In asking members what they think Ferris does well, responses included: tuition waiver, respect, support of professional development, FSU contribution towards employee 401K plan, benefits, great co-workers, and many more.
The following are discussion topics from the open forum sessions:
MSPERS representation on campus: MSPERS participants feel they do not see representatives on campus as frequently as other member reps are available. Members asked that if MSPERS will not come to campus that a campus representative go to their events. Several individuals were curious about recent court rulings that impact MSPERS members and no information was shared. Concern was also heard about the negative messaging on campus concerning MPSERS. Members are a part of this retirement system and are concerned about this tone at times.
Overtime, Exempt/Non-exempt: Employee classifications are still unknown/confusing to some employees and supervisors. Lack of awareness leaves employees unsure of their rights and responsibilities, while there is no uniformity among supervisors. Employees are unsure how to interpret what qualifies them for leave time and how to request time out of the office. Supervisors are unsure of how to handle OT/exempt/non-exempt; many exempt employees are having their hours tracked on the official time off request calendars. It was requested that supervisors be required to attend training to understand laws and FSU policy/procedure when supervising employees.
Performance Evaluations, Merit, and Equity: While members acknowledged improvements in the new system, requests were made to allocate a certain percentage of the funding for administrative employees below director and to require that the self-evaluation tool be kept with the evaluation throughout the entire process. Specific concerns were that merit opportunities may not trickle down to administrative employees, VP's may not have all of the information from the self-evaluation to determine merit qualification if it isn't passed along, and thus scoring might not be accurate and consistent throughout the division. The new process seems overly complicated at all levels.
Sick time carryover and time sharing: Non-grandfathered members are unhappy with the 13 day use it or lose it sick time allowance. The current system promotes using the sick hours. Minimally, members on the use it or lose it system would like the ability to carry over some sick time, i.e. 40/60 hours. If this cannot be changed, can employees have the option to share time or create a "bank" for employees who may need additional time? Sharing may not be an option due to having two sick time banks; those grandfathered and those on the 13 day use it or lose it system.
Healthcare: Members question whether or not consolidated health plan options between unions, administrative, etc. could help reduce costs. The likelihood of this may not be possible due to the many different bargaining units. If consolidation is not an option, perhaps educating employees on ways to be better health care consumers could provide savings to health plans and therefore keep premiums low. Educational sessions for our group was requested. Members in attendance were complimentary of their Priority Health coverage/services.
Updated position descriptions: Concern was voiced regarding the longstanding issue of outdated position descriptions. Members request that this topic be a priority at the University and a timeline for completion be established.
Hiring/Promoting Internal Employees: Hiring process concerns included the posting of minimum requirements that disqualify current employees from meeting minimums, posting externally before first posting internally, and failure to include a salary range in the posting. Some expressed concern that salary inequities have occurred with new hires and those already employed in like positions. We have many very educated and skilled employees who would like the university to do a better job of hiring/promoting from within.
Vision and dental benefits: Benefits have not changed for many years, members asked that updated benefit levels be considered such as higher coverage purchase options for dental and vision upgrades. Proposed changes currently under review were discussed. UPDATE – Both the dental and vision plans for July 2016 have been enhanced. Thanks for all those who have worked on this!
Workload: Some expressed concern about workloads and not being compensated for taking on additional duties or increased volumes. Some areas are just in need of additional staffing to meet demand.
LEGISLATIVE UPDATE – The Fair Labor Standards Act has just (May 2016) approved the new provisions to automatically extend overtime pay eligibility to most salaried white collar workers earning less than $47,476 a year, when they work more than 40 hours a week. You can find more information at: https://www.dol.gov/whd/overtime/final2016/overtime-factsheet.htm. The final rule will affect some of our administrative employees. The Human Resources Department is currently reviewing these positions and will ensure compliance by the mandated effective date December 1, 2016.
Per the Department of Labor website (https://www.dol.gov/featured/overtime) the final rule will:
Raise the salary threshold indicating eligibility from $455/week to $913 ($47,476 per year), ensuring protections to 4.2 million workers.
Automatically update the salary threshold every three years, based on wage growth over time, increasing predictability.
Strengthen overtime protections for salaried workers already entitled to overtime.
Provide greater clarity for workers and employers.
Based on the feedback from our open forums, the Council goals have been established to include:
Communication issues
Healthcare equity
General support and resources
Workload issues
Establish up-to-date position descriptions
The Administrative Council is working collaboratively to be a resource, advocate for its members, and assist in identifying opportunities for process improvement based on your feedback. We truly appreciate the opportunity and confidence that you have afforded us in representing you and your taking time to attend our open forums. We all contribute to making Ferris a great place to work!