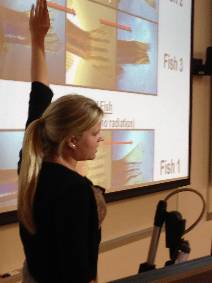 The Student Research Fellowship (SRF) is intended to promote collaborative research projects between faculty and students at Ferris State University in the summer months. The program provides a focused and intensive research experience for the student by supporting 10 weeks of full time work.
Results of their work will be shared with the University community at the SRF Symposium, Wednesday, August 23rd at 2:00pm in SCI 126 (Wednesday of Faculty Welcome Back Week).
Please join us in congratulating the 2017 SRF recipients!
| For the Students: | For the Faculty Member: |
| --- | --- |
| Opportunity to explore a research question in depth. | Access to a $1,000 supply budget to spend on consumables, equipment or travel to support the project. |
| Opportunity to work closely with a faculty member. | An additional $500 of PDI funds to encourage travel to a meeting or continuation of the project after the report is submitted. |
| Experience preparing and giving a presentation to the University community. | $1,000 stipend for their participation in the project for each student they supervise, funded by your college. |
| Stipend of $3,500 for full time work over a 10 week period. | |