Annual Spring Band and Orchestra Concert Takes Place April 23
April 19, 2017
The Ferris State University Annual Spring Band and Orchestra Concert will be held in the Ferris State University Williams Auditorium on Sunday, April 23, at 4:00 p.m. The concert is titled "My Favorite Things." Admission is free.
Music to be performed by:

The FSU Symphony Band
The FSU West Central Concert Band
The FSU West Central Chamber Orchestra
Dr. Richard Scott Cohen, Musical Director and Conductor
Dr. Dale E. Skornia, Guest Conductor
Dr. Donna Smith, Announcer
and featuring:
Patrick Billig, euphonium
Jake Davenport and Morgan Payne, cello
Cole Bazan, Sarah Massey and Dona' Worthy, violin
Assistance:
Anyone with a disability who needs special accommodations to attend this program must contact (231) 591-3676 or williams_auditorium@ferris.edu at least 72 hours in advance of event.
About the concert:
Come join us for our 2016-17 season finale concert: "My Favorite Things." This concert will feature Ferris State University's Orchestra and its two Concert Bands performing musical favorites selected by its musicians and conductor. The concert will also include the annual FERRIS MUSIC STUDENTS RECOGNITION CEREMONY.
Musical selections will include:
"Merry-Go-Round of Life" from Howl's Moving Castle
Fantasia for Euphonium and Band
Thunder and Blazes March
Boccherini's Minuet in G
The Sound of Music
Panis Angelicus
Amparito Roca
Sinfonia in D
Star Wars
Czardas
Dusk
For additional information, please contact:
Scott Cohen
Director of Instrumental Concert Ensembles
Professor of Music
Ferris State University
1030 Campus Drive
Big Rapids, MI 49307
(231) 591-2484
RichardScottCohen@ferris.edu
Click here for a permanent link to this story.
CAS Students Win Summer Research Fellowships
April 18, 2017
Ten College of Arts and Sciences students have been named 2017 Summer Student Research Fellows.
The Student Research Fellowship (SRF) program supports collaborative research projects between faculty and students at Ferris State University. It is intended to enrich the student experience by engaging in a summer research project. At the same time, contributing to the professional development of faculty and providing Ferris students with valuable research experience.
Click here for the full story.
CAS Faculty Publish New Books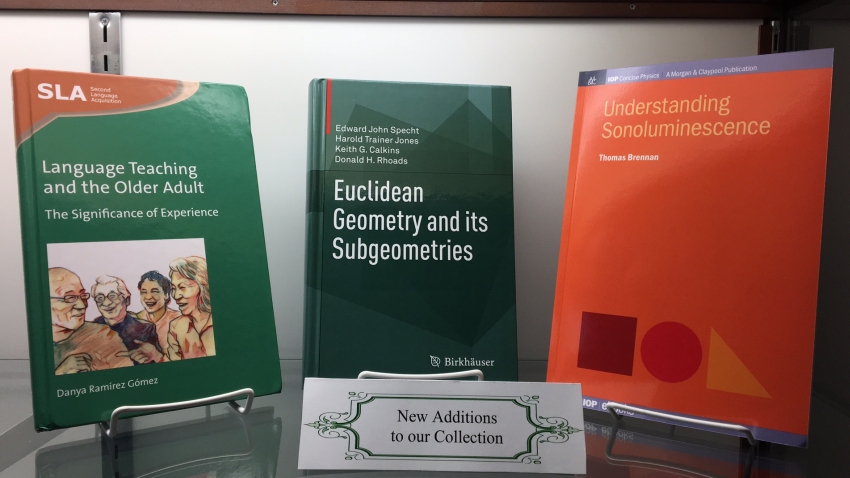 April 12, 2017
Three members of the College of Arts and Sciences faculty have recently published books.
Dr. Thomas Brennan, a professor in the Department of Physical Sciences, has published Understanding Sonoluminescence (Morgan and Claypool Publishers).
Book Summary: Sonoluminescence is the transformation of sound into light. To most who know how to do sonoluminescence, it's just a little glowing bubble levitating in a flask of water. But it holds some surprises that have been overlooked. This book looks to reform our scientific understanding of sonoluminescence and explore the practical applications as an energy source.
Dr. Keith G. Calkins, also a professor in the Department of Physical Sciences, is the co-author of Euclidean Geometry and Its Subgeometries (Birkhäuser).
Book Summary: Euclidean Geometry and Its Subgeometries provides a complete and rigorous axiomatic treatment of Euclidean geometry. Proofs for many theorems are worked out in detail. The book takes a modern approach by replacing congruence axioms with a transformational definition of congruence.
Danya Ramírez Gómez, an adjunct instructor in the Department of English, Literature, and World Languages, has published Language Teaching and the Older Adult: The Significance of Experience (Multilingual Matters).
Book Summary: The aging of the population and the increasing number of older adults pursuing foreign language courses call for a greater understanding of the ways in which these individuals learn foreign languages. This book offers a pioneering contribution to the literature on foreign language education for older adults (aged 60 and over), termed foreign language geragogy.
Click here for a permanent link to this story.
News Archive
Mecosta-Osceola Science Symposium (April 10, 2017)
"DORM and Other Four-Letter Words" Opens (March 9, 2017)
Trinidy Williams Receives Inaugural Helen Gillespie Ferris Award (February 24, 2017)
Holocaust Educator Martin Lowenberg Speaks at Ferris (January 31, 2017)
Dr. Beth Zimmer Named Chair of Biological Sciences (January 26, 2017)
College Faculty, Staff and Students Participate in MLK Celebration Events (January 19, 2017)
"Strong Is the New Pretty" Opens at Fine Art Gallery (January 11, 2017)
Joe Lipar and Trinidy Williams Appointed Associate Deans (January 3, 2017)