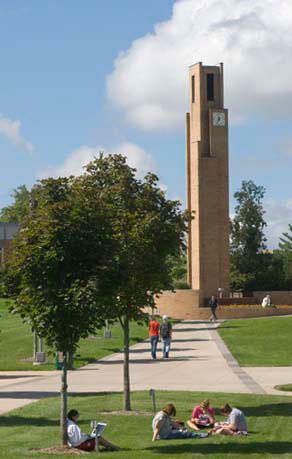 Discover Ferris State. One The Best Universities and Colleges in Michigan With Campuses in Big Rapids MI, Grand Rapids MI, and Off Campus Locations Across Michigan. Ferris State University a has more than 14,000 students enrolled in classes on its main Michigan college campus in Big Rapids, 21 off-campus sites throughout Michigan and at Ferris' Kendall College of Art and Design in Grand Rapids, Michigan. By offering students what they want, when and where they need it, Ferris is rated among the best universities in Michigan, and is often referred to as Michigan's "statewide university," with a transfer rate higher than any other university in Michigan, facilitated by the ease of "laddering" from a two-year degrees to a four-year degree.
» Mission, Core Values & Vision
Rated as one the best colleges in Michigan, Ferris State is distinguished by its strong heritage of opportunity and career-oriented approach to education where theory meets practice, along with unique degrees that are not available at other top universities in Michigan, the region or nation. More than 180 college degree programs, ranging from associate to doctoral degrees, are offered through eight degree-granting Michigan colleges: Arts, Sciences and Education, Business, Education and Human Services, Engineering Technology, Health Professions, Kendall College of Art and Design, Michigan College of Optometry, and Pharmacy.
The majority of Ferris State's college degree offerings are tailored with a specific occupation in mind and align directly with many occupations that are expected to experience growth across the country. Ranked among the top colleges and universities in Michigan, Ferris State has at least 140 college degrees that align directly with in-demand occupations in the categories of business, finance and management; administrative and clerical; computer science and engineering; social service; education and training; health care practitioners; health care technology and support; protective service; and construction, production and repair.
Top Michigan Colleges 'Top Michigan Universities' Best Michigan Colleges 'Best Michigan Universities.'
Ferris has the fewest number of large classes among the top public universities in Michigan, with only 1 percent of college classes having more than 50 students. This allows for more direct contact with faculty, more hands-on learning and experimentation and greater student engagement. More than 50 percent of the college classes at Ferris State have fewer than 20 students, and the student-to-faculty ratio is 16-to-1. Full-time tenure-track faculty with experience in their respective fields teach the majority of college classes, providing real-world relevancy to the learning environment. Advisory boards also contribute to ensuring current and relevant curriculum is taught which produces Michigan college graduates with hands-on skills that allow them to be productive employees from the first day of employment.
As one of the leading universities in Michigan, Ferris State more than any institution or the top colleges in Michigan, has reached out to Michigan community colleges creating partnerships on 19 campuses and expanding online offerings. Ferris State enrolls the largest number of off-campus college students at the Applied Technology Center through its Michigan college partnership with Grand Rapids Community College.
Ferris' state-of-the-art Michigan College of Optometry, new student housing, classroom renovations and the unique offerings in Ferris' largest dining facility add to the vibrancy of our Michigan University's 880-acre campus, which already boasts FLITE, a four-story library; the Granger Center, a building with visible mechanical systems, such as geothermal heating and cooling, for HVACR students; and the National Elastomer Center, a specialized center for studying plastics and rubber technology.
Ferris is the only university in Michigan named after its founders, Woodbridge Nathan Ferris (two-term Michigan governor and U.S. senator) and Helen Gillespie Ferris. It was founded in 1884 as the privately-owned Big Rapids Industrial School and provided opportunity for people who might otherwise have become lumberjacks, farm laborers and food processing workers, instead offering paths to lives of greater possibility. Ferris did not become a state institution until 1950, undergoing several name Michigan college name changes until becoming Ferris State University in 1987. The Ferris philosophy of a practical, hands-on approach to education that enables students to learn practical skills for new jobs in a changing world still resonates today.