Bachelors Degree Surveying Engineering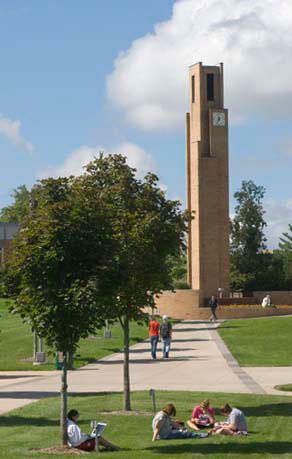 Why Major in Surveying Engineering?
Instruction in the Ferris State University surveying engineering bachelor degree program emphasizes theoretical principles as well as practical applications of advanced surveying techniques and related computational procedures, geodesy, map compilation and photogrammetry, business aspects of operating a surveying firm, geographic information systems (GIS) and planning and conducting surveys.
College Students in the Surveying Engineering program must complete trigonometry courses, have an aptitude for physical science and have the ability to work effectively as a team member.
Advance Your Career with a Surveying Engineering Degree
The Surveying Engineering Bachelor's of Science degree is accredited by the Engineering Accreditation Commission (EAC) of Accreditation Board for Engineering and Technology. Program Educational Objectives:
Provide an educational experience that prepares our Michigan college students for the challenges of the surveying profession that they will encounter during their professional lives.
Provide opportunities for our accredited college surveying engineering students to exhibit creativity, leadership and team-building abilities, cultural appreciation and an understanding of global and social issues.
Employ state-of-the-art technologies in the surveying engineering academic curriculum.
Incorporate interdisciplinary concepts and problem-solving exercises in the college surveying engineering bachelor degree program.
Provide broad educational experience including communication skills, mathematics and basic science, preparing surveying engineering students for lifelong learning.
Surveying Engineering College Graduates Get Great Jobs
Surveying engineering is the science of making precise measurements of the Earth's surface with the aid of sophisticated optical and electronic instruments. A challenging and satisfying profession, surveying engineering is of vital importance for national defense, exploration, conservation, preservation of natural resources and land development.
There is a very high demand for surveying engineers, with five to six job opportunities for every college graduate. Professional surveyors can choose to join an existing surveying and/or civil engineering firm or enter private practice following completion of licensing requirements. Surveying Engineering Graduates may also find employment with local, state and federal governmental agencies. In addition, surveying engineers are needed in resource recovery, oil and mineral exploration and other high-tech industries.
Surveying Engineering Bachelor's Degree Admission Requirements
Admission to the Ferris State College of Engineering Technology is open to high school graduates who demonstrate academic preparedness, maturity and seriousness of purpose with backgrounds appropriate to their chosen program of academic studies. Among first-time students in our technical programs, the average high school GPA is 2.8, and the average ACT composite score is 20.
College students entering the Surveying Engineering degree program must have a high school diploma (or equivalent) with a minimum 2.0 GPA and a minimum ACT math sub-score of 24. Transfer students must have a 2.0 GPA or better for previous college coursework.
College Degree Surveying Engineering Graduation Requirements
The Surveying Engineering degree program at Ferris State University leads to a bachelor of science degree. Graduation requires a minimum 2.0 GPA in core classes, in the major and overall. Surveying Engineering Students must complete all general education requirements as outlined on the General Education website.
If you would like more information on Surveying Engineering Bachelor Degree Programs at Ferris State University call (231) 591-2000.
About Ferris State University: College classes including our Surveying Engineering Program, are taught at all levels by professional teachers, not graduate assistants. College students at Ferris State University, including our Surveying Engineering Program students, study in more than 170 different college educational programs - including doctorate degrees, masters degrees, bachelor's degrees and associate degree programs.

Ferris State University offers a wide variety of scholarships and financial aid. A majority of our students receive financial aid assistance. We encourage you to explore this website for more information on available scholarships and financial aid opportunities at Ferris State University. Ferris State provides all enrolled students access to a variety of academic skill-building opportunities that will assist them in their pursuit of academic excellence in a format that accommodates various learning preferences and schedules. At FSU students experience small classes with individual attention in 170 career-oriented majors leading to job placement for our graduates. FSU students also enjoy 220 student organizations for fun in a relaxed, hometown setting in the heart of Michigan's recreation area.

The group presentation, by one of our admissions recruiters, includes information on academic offerings, scholarships, housing, student life, and costs. A question and answer period follows the presentation and includes a few surprises! Lunch is provided at one of our well known dining facilities on campus. After lunch, guests may take part in a walking tour of campus led by one of our exceptional student guides. The walking tour takes approximately 1 hour.

If you would like more information on Surveying Engineering Degree or would like to talk with or visit our campus in Big Rapids, Michigan contact us.

To Learn More About Ferris State University click here for the Mission Statement.