By Alexis Hill

Guest Blogger for News Services

If you follow Ferris State University's football team, then you would know firsthand the long travels the team has endured. From traveling to McKinney, Texas, to compete in the 2018 Division II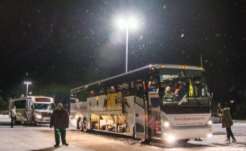 National Championship game, to experiencing the longest road trip in program history, two weeks ago to take on Central Washington, to the most recent win over Ashland University last week in Ashland, Ohio, the Ferris State football team has left their mark all over the country. I know we are all wondering, how do these athletes do it? I sat down to talk with junior defensive end Parker Underwood (No. 2) and junior defensive tackle, Dan Perry (No. 55) to find out.
The Experience of a Life Time
Knowing the far travels (and near travels) the team has completed over the years, I wanted to know how the players view these experiences. Both players were thankful for the opportunity to visit cities they have never been and be able to experience different competition levels throughout. "Football has provided me the opportunity to travel across the country and experience new cities and states that I have never been to. Although, when we are on the road, it is a business trip, it is exciting to be able to visit new places," said Underwood.
Getting in the Zone
The players use a variety of tactics to help them gear up for game day and stay in the zone. Perry says that listening to smooth R&B throwbacks in his music of choice. It helps him stay calm and zoned in. The defensive tackle strongly focuses on what goes into his body during game weeks as well. He strays away from any "junk food" and stays as hydrated as possible to prevent cramping during the game. Underwood states that Coach (Tony) Annese and the rest of the coaching staff spend the whole week preparing the team, not only preparing the "X's and O's", but the uncontrolled external factors as well. "For example, if we are expecting to play on the road against a hostile crowd, the music during practice will be louder than usual and will replicate the noise of the crowd we are expected to face that upcoming Saturday," Underwood said.
Lucky Charm
Everyone has that one item that they HAVE to bring with them on long trips. Most people would say a set of headphones, their laptop or tablet, or a pillow. What is Dan Perry's item? It's a cat's eye marble. "I always travel with my lucky cat's eye marbles. Growing up, my neighbor Walley and I used to play marbles all the time, and he told me, "If you always keep a lucky marble with you, you will have good luck in no matter what you do." Wherever I go, I always have a marble on me," he explained.
Overcoming Challenges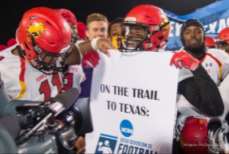 There are many challenges student-athletes can face when traveling. They can forget to pack an item, get lost or experience a flight delay. The biggest challenge these student-athletes face is missing their classes and trying to complete homework with busy traveling weekends ahead of them. Imagine trying to fit in homework when your weekend begins at 7 a.m. on Friday and doesn't end until the wee hours of Sunday. Once Sunday afternoon rolls around, team members are back on the grind with a lift and team meeting.
Underwood goes into detail explaining this challenge, "The most challenging thing about being on the road is missing classes. Especially during playoffs last year, we were constantly traveling from state to state and missing a majority of school weeks. Then, during finals week, we were in Texas for the National Championship. So, we all had to strategize with our coaches and professors on when we would makeup final exams and assignments."
Feeding Off the Energy
When playing on the road, there are a lot of external factors that could affect the team. One of the most significant external factors is the opposing team's fans and the energy they bring. Do players feel shut down with a hostile opposing crowd, or is it motivation? For the junior defensive players, it turns into motivation. "I feed off of the opposing crowd's energy, and that helps me play harder," said Perry. Underwood is no different, "I love playing on the road. There is nothing better than taking the life out of an opposing crowd."
Whether you are a Bulldog fan or a rival, there is no doubt that where ever Ferris State football goes, they leave their mark. The focus and energy the team brings to every away game are astounding. Where will the team be off to next? Maybe to Texas again for another shot at winning the National Championship. With the way that the season is going, so far, the future looks bright.

Alexis Hill is a student in the Public Relations program in Ferris State University's College of Business.