Bachelors Degree Rubber Engineering Technology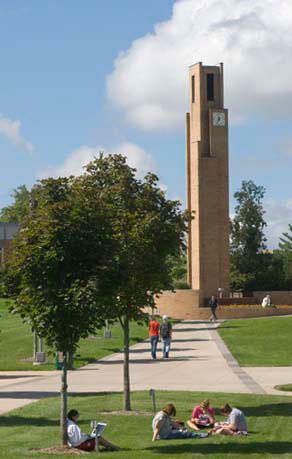 Why Major In Rubber Engineering Technology?
The Rubber Engineering Technology program was started in 1998 based on an urgent need in the rubber industry for technically trained personnel. It is the only Rubber Engineering Technology bachelor's degree program in the United States, so many companies are competing for these graduates. Approximately one million people across the country work in the rubber industry, making it one of our largest employers.
This innovative program provides Rubber Engineering Technology students with a diversified background that includes advanced coursework in the mixing and testing of rubber compounds for industry standards, the processing of rubber compounds into finished products that meet customer requirements, product and mold design, and materials selection and properties. Classes emphasize hands-on learning, using the same type of equipment that is currently used in industry.
Rubber Engineering Technology Graduates Get Great Jobs
The rubber industry, working with the State of Michigan, generated more than $7,000,000 to create the National Elastomer Center, a building on campus with state-of-the-art laboratories and classrooms. Many companies actively support us by donating equipment and materials, making on-campus presentations and sponsoring field trips to their facilities.
Rubber Engineering Technology Students also serve two paid internships in industry for a minimum of ten weeks each, gaining valuable firsthand experience before graduation. Some out-of-state companies even pay room and board in addition to salary to attract our interns. The internship helps students decide what type of position they would most enjoy after graduation.
After completing the Rubber Engineering Technology program, students are immediately employable by the rubber industry. One hundred percent placement is expected in the foreseeable future. Rubber Engineering Technology graduates usually start in engineering positions such as process, product or project engineer, quality control engineer or technical sales representative. The rubber industry is looking to graduates of this Ferris program to become their senior engineers and managers of the future. Rubber Engineering Technology graduates should make approximately $45,000 per year at graduation and with ten years' experience can make $70,000 per year or more.
Rubber Engineering Technology Bachelor's Degree Admission Requirements
Admission requires an associate degree in Rubber Technology (or approved equivalent) with a minimum 2.5 cumulative GPA, a minimum 2.5 GPA in math requirements and a minimum 2.5 GPA in Rubber and Plastics courses. For entry from another program, prior work will be evaluated and the student will be placed at the appropriate point in the program. Admission is competitive.
College Degree Rubber Engineering Technology Graduation Requirements
The Rubber Engineering Technology program at Ferris leads to a bachelor of science degree. Graduation requires a minimum 2.0 GPA in core classes, in the major and overall. Students must complete all general education requirements as outlined on the general education Web site.
If you would like more information on Rubber Engineering Technology Bachelor's Degree Programs at Ferris State University call (231) 591-2000.
About Ferris State University: College classes including our Rubber Engineering Technology Program, are taught at all levels by professional teachers, not graduate assistants. College students at Ferris State University, including our Rubber Engineering Technology Program students, study in more than 170 different college educational programs - including doctorate degrees, masters degrees, bachelor's degrees and associate degree programs.

More than 180 educational programs - including doctorates, master's, bachelor's and associate degrees - are offered through the colleges of Arts, Sciences and Education, Business, Education and Human Services, Engineering Technology, Health Professions, Optometry, Pharmacy, and Kendall College of Art and Design.

Ferris State University offers a wide variety of scholarships and financial aid. A majority of our students receive financial aid assistance. We encourage you to explore this website for more information on available scholarships and financial aid opportunities at Ferris State University. Ferris State provides all enrolled students access to a variety of academic skill-building opportunities that will assist them in their pursuit of academic excellence in a format that accommodates various learning preferences and schedules. At FSU students experience small classes with individual attention in 170 career-oriented majors leading to job placement for our graduates. FSU students also enjoy 220 student organizations for fun in a relaxed, hometown setting in the heart of Michigan's recreation area.

The group presentation, by one of our admissions recruiters, includes information on academic offerings, scholarships, housing, student life, and costs. A question and answer period follows the presentation and includes a few surprises! Lunch is provided at one of our well known dining facilities on campus. After lunch, guests may take part in a walking tour of campus led by one of our exceptional student guides. The walking tour takes approximately 1 hour.

If you would like more information on Rubber Degree or would like to talk with or visit our campus in Big Rapids, Michigan contact us.

To Learn More About Ferris State University click here for the Mission Statement.