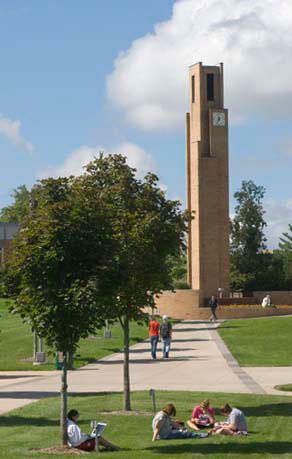 Why Major In Plastics Engineering Technology?
The Ferris State University Plastics program is the largest and most respected undergraduate program in the United States. The Bachelor's program was started in 1982 and continues to fill a great need in the growing plastics industry for technically trained personnel. About 1.3 million people across the country work in plastics, making it our fourth largest industry. Ferris accredited college graduates gain immediate status as recognized technical leaders.
This innovative program provides students with a background that includes topics such as processing, material testing and properties, and mold and product design. Classes emphasize hands-on learning, using the same type of equipment that is currently used in industry. An exceptional 85 percent of our Plastics Engineering Technology students receive their accredited degree.
Plastics Engineering Technology College Graduates Get Great Jobs
The plastics industry has long shown support for the Ferris Plastics Engineering Technology program, even sponsoring the construction of the Plastics Building, which in 1998 was expanded into the National Elastomer Center with state-of-the-art laboratories and classrooms. Many companies actively support us by donating equipment and materials, making on-campus presentations and sponsoring field trips to their facilities.
Plastics Engineering Technology students also serve two paid internships in industry for a minimum of ten weeks each, gaining valuable firsthand experience before graduation. Some out-of-state companies even pay room and board in addition to salary to attract our interns. The internship helps college students decide what type of position they would most enjoy after graduation.
Advance Your Career with a Plastics Engineering Degree
After completing the Plastics Engineering Technology program, Plastics Engineering Technology students are immediately employable by the plastics industry. There is consistent 100 percent placement of our Plastics Engineering Technology graduates. Plastics Engineering Technology graduates usually start in engineering positions such as process, product or project engineer, quality control engineer or technical sales representative. Many of our graduates have attained management positions throughout the plastics industry. Plastics Engineering Technology graduates should make approximately $45,000 per year at graduation and with ten years' experience can make $70,000 per year or more.
If you would like more information on Plastics Engineering Technology Bachelor Degree Programs at Ferris State University call (231) 591-2000.