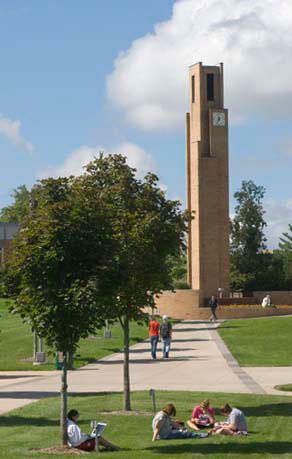 Why Major in Optometry?
The curriculum at the Michigan College of Optometry at Ferris State University is designed to produce doctors of optometry who are qualified to practice full-scope optometric care in any state and practice setting. The curriculum includes clinical training and practice under the supervision of college faculty.
The college, which meets the standards of the Association of Schools and Colleges of Optometry and is accredited by the Council on Optometric Education and the North Central Association of Colleges and Schools, operates in modern, up-to-date classrooms and labs, including an on-campus clinic. Off-campus facilities also are used to maximize clinical education.
Examples of the College's off-campus clinical affiliations include Veterans Administration hospitals, military medical facilities, optometric referral centers and prison health care facilities.
The Michigan College of Optometry at Ferris State University was established in 1975 and remains the only institution in Michigan to offer an optometry program. The profession is one of the top five income-earning professions in the country and is dedicated to maximizing the visual efficiency and quality of life of patients. It encompasses the prevention and remediation of disorders of the eyes and visual systems through the examination, diagnosis, treatment and management of visual problems and eye diseases.
Doctors of Optometry are primary health care providers who enjoy favorable working conditions, regular hours and a minimum of emergency calls. The profession offers many career options and great freedom in choosing a location to live and practice. Career options include private practice, group practice or institutional practice in hospitals, health centers, health maintenance organizations or corporate offices. Career options may also include residency training and further specialization. Graduates of the program report a high level of satisfaction with their career choice, income and lifestyle. Optometry is rated as the number two career in the "excellent" category by the U.S. News & World Report website.
Regardless of the type of practice, optometry is counted as one of the top 10 income-earning professions in the country. In addition to the monetary rewards, optometry is a very satisfying profession since, by treating a patient's vision problems, one can improve the quality of the patient's life. The profession provides substantial financial security, too, because the need for vision care in America will only continue to grow as the population ages.
If you would like more information on the Optometry Program at Ferris State University call (231) 591-3703.
About Ferris State University: College classes including our Optometry degree program, are taught at all levels by professional teachers, not graduate assistants. College students that major in Optometry at Ferris State University, study in more than 170 different college educational programs - including doctorate degrees in Optometry, masters degrees, bachelors degrees and associate degree programs.

More than 180 educational programs - including doctorates, master's, bachelor's and associate degrees - are offered through the colleges of Arts and Sciences, Business, Education and Human Services, Engineering Technology, Health Professions, Optometry, Pharmacy, and Kendall College of Art and Design.

Ferris State University offers a wide variety of scholarships and financial aid. A majority of our students receive financial aid assistance. We encourage you to explore this website for more information on available scholarships and financial aid opportunities at Ferris State University. Ferris State provides all enrolled students access to a variety of academic skill-building opportunities that will assist them in their pursuit of academic excellence in a format that accommodates various learning preferences and schedules. At FSU students experience small classes with individual attention in 170 career-oriented majors leading to job placement for our graduates. FSU students also enjoy 220 student organizations for fun in a relaxed, hometown setting in the heart of Michigan's recreation area.

The group presentation, by one of our admissions recruiters, includes information on academic offerings, scholarships, housing, student life, and costs. A question and answer period follows the presentation and includes a few surprises! Lunch is provided at one of our well known dining facilities on campus. After lunch, guests may take part in a walking tour of campus led by one of our exceptional student guides. The walking tour takes approximately 1 hour.

If you would like more information on the Optometry Programs at Ferris State University or would like to talk with or visit our campus in Big Rapids, Michigan contact us.

To Learn More About Ferris State University click here for the Mission Statement.