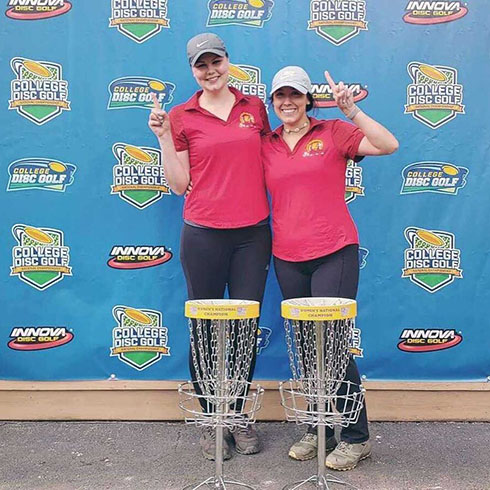 Tianna Halfaday and Rachel Dupre were 2021 National Collegiate Disc Golf champions. The men's and women's teams were one of approximately 200 registered student organizations on the Ferris State University campus.
Maintaining avenues for athletic competition, furthering personal and academic interests or simply developing a way to meet and enjoy free time with others characterize a few reasons for approximately 200 registered student organizations on the Ferris State University campus.
Activities Coordinator Nick Smith, in the Center for Student Involvement, said nearly 3,000 Ferris students are involved in one or more RSOs. Each organization has an adjunct instructor, faculty member, or staff member as an advisor.
"The advisor's role is to offer a small amount of consult in these student-driven groups while serving as their university liaison," Smith said. "Nearly all of these positions are volunteer efforts where everyone involved can follow their passions in an opportunity to foster student growth, inclusion and goodwill."
He noted 39 RSOs focused on special interests, with foreign language and culture, board games, anime, and fashion design. Twenty-nine club sports are active with a council to oversee that collection of teams representing the university in various associations and regional competitions. There are 16 academic honor societies where leadership or defined subject areas or career pursuits are developed or encouraged.
Ferris State University has more than 200 student organizations, including those focused on Greek life.
"To be a registered student organization, there must be five or more members in the group. An advisor from the faculty or university staff must be secured. A small presentation to our Student Leadership and Activities Advisory Council is required of the prospective RSO," Smith said. "The members of SLAAC consider the proposal, with the ability to approve or deny the request."
Even with around 200 of these groups established across campus, Smith said ingenuity or an amount of collective wisdom might bring on a handful of new organization proposals each year.
"The latest RSO to join the fold is a group who gathers to shoot clay targets," Smith said. "Ben Upham, an associate professor in the School of Automotive and Heavy Equipment, was the person behind the idea, so he found students interested in this pursuit, which led to a successful presentation and approval of their RSO."
For more information about registered student organizations at Ferris, contact Smith by emailor by calling (231) 591-2140.