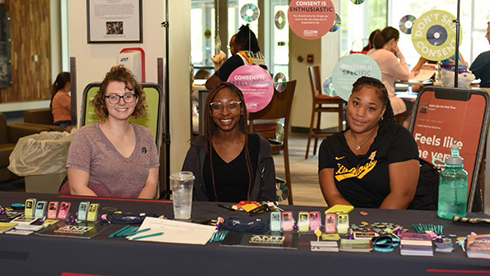 Sydney Mingori (left), a third-year Ferris State University student from Greenville, and Nia Goins, of Muskegon (center), both serve as staff leads in the Anti-Violence Alliance, a campus safety program based in the Office of Student Life. In addition, various organizations and campus operations explain the resources available to all Ferris students as orientation sessions continue ahead of the 2022-23 academic year.
Along the upper and lower corridors of the University Center, an array of Ferris State University departments, organizations and initiatives take part in a resource fair during new-student orientation sessions. Weeks one and two of orientation are in the books, with two more to come after the Fourth of July.
On Tuesday, June 21, Sydney Mingori, a native of Greenville with Ferris' Anti-Violence Alliance, was joined by fellow staff lead Nia Goins, of Muskegon and a representative for Women's Information Service at a table near the north entrance to the University Center. Theirs was one of the first resource tables available to students and parents who completed sign-in with Admissions staff.
"At orientation, we offer information to incoming students about the peer educator program with the Anti-Violence Alliance," Mingori said. "The AVA is a group of staff, faculty and students who work to educate our campus community about recognizing and responding to intimate partner violence, domestic violence, sexual violence, and stalking through pro-social bystander intervention. We hope to provide information to incoming students during this opportunity so that they might already know our program and work on campus in the fall."
Also on the upper concourse of the University Center was Ben Withey, assistant director of Alumni Relations. The alumnus from Charlotte said letting new Ferris parents know about the Legacy Scholarship program is one of their departmental goals.
"The number of Legacy Scholarship applications we get varies, year to year, but we have been successful in fundraising over the past year to support that program," Withey said. "We generally receive a strong field of applicants, so those who seek the scholarship as children, grandchildren, or siblings of Ferris alumni should this a real opportunity to support their education costs."
Withey said they also want alumni bringing their students to campus to know the Alumni Association has resources for them.
"Whether it is our schedule of virtual events or gatherings like the Mackinac Island Alumni Weekend, Oct. 7-9, we enjoy engaging with and supporting the Bulldog family," Withey said.
Orientation began at Ferris on a Monday, Tuesday and Thursday schedule June 13. That pattern resumes on Monday, July 11. There will also be late orientation opportunities on Thursday, Aug. 18, in an "express" format Thursday, Aug. 25.
More than 1,000 incoming Ferris first-year and transfer students have registered to participate in orientation ahead of the 2022-23 academic year.