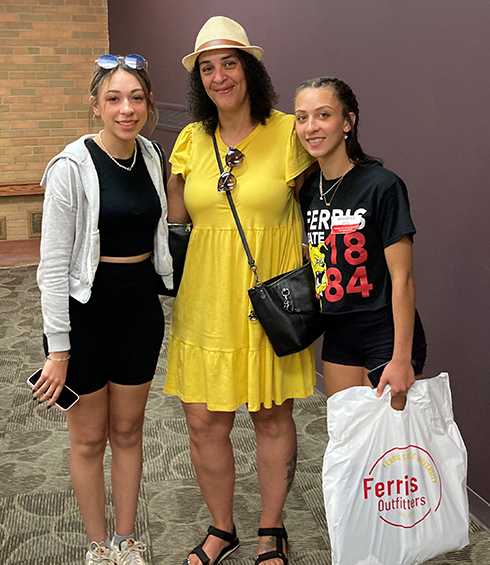 Makayla Hill of Dowagiac (right) wrapped up her orientation visit to Ferris State University Monday, July 19 by attending the College of Arts, Sciences and Education's presentation in the Science Building. Hill plans to study Psychology and will reside in Brophy Hall.

Weekly orientation sessions for incoming Ferris State University students continued Monday, July 18. Students and parents followed their midday meal by visiting with leaders from their academic colleges. Eighty future College of Arts, Sciences and Education students settled into a Science Building lecture hall for a presentation from Social and Behavioral Sciences department chair Jennifer Johnson, chair of the Social and Behavioral Sciences Department, and Michael Berghoef, chair of the Social Work program.
Berghoef opened by emphasizing the importance of completing registration for the fall semester.
"The sooner you complete your session with your college advisor, the better," Berghoef said. "Class sections will fill up, so registration is the best way to get the courses you want."
Berghoef and Johnson cited Akademos, a national online textbook distribution service Ferris uses. The first day of orders for the fall semester is coming on Sunday, July 25. Student orientation leaders supporting this discussion added that a Ferris State University Text Book Exchange Facebook group was an economical option when appropriate.
"Recent editions of textbooks, in courses like statistics, may be acceptable for your section," Berghoef said. "We suggest you turn to your professors to ensure the situation if you want to take advantage of any such opportunity to buy a used book."
The Educational Counseling and Disability Services office was highlighted as a potential resource for students who qualify for federal "Section 504" accommodations or Individualized Education Programs (IEP).
"My advice is not to hesitate to reach out," Johnson said. "You can keep such personal information to yourself, but we encourage you to use the resources available here on campus."
During the rest of the afternoon presentation, faculty and student leaders noted considerations such as campus parking passes and space availability, transportation options and the benefits of securing employment on campus, ranging from residence hall roles to work-study programs. The session concluded with the student orientation leaders offering advice based on their experiences to maximize student success in the classroom and gain value from the campus experience.
Incoming freshman Makayla Hill, from Dowagiac, plans to study psychology at Ferris. Her sister Maddison and Aunt Tamantha accompanied her to the College of Arts, Sciences and Education meeting.
"It has been a full day. I feel I learned a lot of things while seeing a good many people on campus for athletic camps this week," Hill said. "I have two cousins who are already students at Ferris, who have helped me know what to expect once I am here."
Hill is preparing for her Move-In Day on Friday, Aug. 26, when she will settle into Brophy Hall.
"I am super excited about coming to Ferris," she said. "I did not meet anyone in particular who will be in Brophy with me, but I look forward to meeting other residents."
The week of July 18 is the final full week of orientation sessions in a Monday, Tuesday and Thursday pattern. Late orientation sessions are set for Thursday, Aug. 18, and Thursday, Aug. 25. The latter takes place as move-in days on campus begin. More than 1,000 new students will take part in orientation sessions this summer.