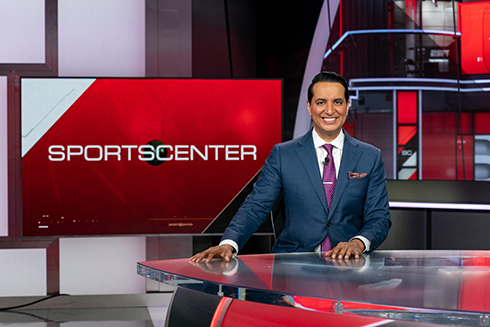 Kevin Negandhi (Image courtesy of ESPN)
Opening with a bang may characterize the Sports Communication Speaker Series for the Fall 2021 semester. Through the series, Ferris State University students who aspire to chase careers in media or communications in the sporting world get perspectives from a familiar face Wednesday, Sept. 15.
Communication Professor and Sports Careers registered student organization advisor Sandy Alspach said an alumni connection brought Kevin Negandhi, of ESPN and ABC College Football, to a campus audience for a Zoom session, beginning at 8 p.m.
"We are thrilled that 2009 alumnus Gil Bransford has made this opportunity to interact with Kevin possible for our Sports Communication community," Alspach said. "Most of our students recognize Negandhi from ESPN's SportsCenter and some of them aspire to one day be in his shoes. Gil will also Zoom in to introduce his colleague."
A viewing opportunity will be available in Room 116 of the University Center that evening, and Alspach, along with Sports Careers President Niko Lagreca, welcome email inquiries from others interested in participating on Sept. 15. Bulldog Radio is collaborating in the presentation of this event.
Alspach said the rest of the Fall 2021 schedule is in development. However, they are pleased to have an alumni success story to share later in the academic year.
"Gil has been a regular feature in our Sports Speakers Series over the last 10 years," Alspach said. "He plans to visit campus in April for a face-to-face conversation about his decade-long career journey with ESPN, which includes achieving the title of Senior Sports Content Researcher and earning a Sports Emmy. We are proud to welcome him as part of the Sports Speakers Series for Spring 2022."