Ferris State University students gain valuable work experience through internships. Internships also can confirm or redirect career decision-making, provide marketability, develop people skills and enhance classroom learning. Many academic programs require one, but the experience is encouraged regardless to provide students with a better understanding of what will be expected of them in the workplace.
Many students are participating in myriad internships this summer. Meet: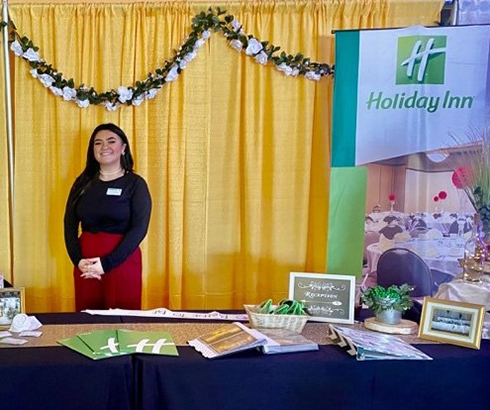 Camryn Blair
Camryn Blair
She is: a senior from Montrose, seeking her Bachelor of Science in Hospitality Management. Camryn also has an Associate of Applied Science degree in General Business from Ferris.
Her Internship: Camryn shifted from her job at the Holiday Inn Hotel and Conference Center in Big Rapids to serve as sales and catering assistant.
"The general manager trained me on the Caterese software system. It applies strategic detailing & scheduling to create BEO's (banquet event orders) and Sales Contracts. The front desk manager has taught me how to create room blocks for companies, sports teams and weddings. She has also shown me how to take deposits and use authorization forms to make payments and create invoices. I have been thoroughly trained on the front desk operations and the hotel's Opera computer system. The food and beverage manager used his extensive experience to teach me how to plan catered events and banquets properly. We successfully have already catered weddings and meals for traveling sports teams. The hotel's chief engineer continues to teach me dimensions and measuring skills to plan and design events properly."
Future Plans: "My goal one day is to run my own hotel, preferably somewhere tropical. I hope to use my skills one day at a beautiful resort or spa, either running events or being the general manager."
Thoughts for Other Students Considering Internships: "Being in hospitality is hard work, but seeing the customer smile makes it all worthwhile. This industry has taken a hit during the pandemic. As a team, we have taken it day by day to rebuild our foundation. I am so grateful to be a part of such an amazing team."
Ferris Core Values Camryn Relates to: Opportunity and Collaboration.
"Life will set opportunities in front of you at the most spontaneous and random times. Whenever opportunities are given to me, I always try and take them because you never know what that could lead to.
Being in the Hospitality program has taught me that it takes a village to make things happen. You have to be open to criticism and advice in this field. If you are collaborative and work well with others, anything is possible."