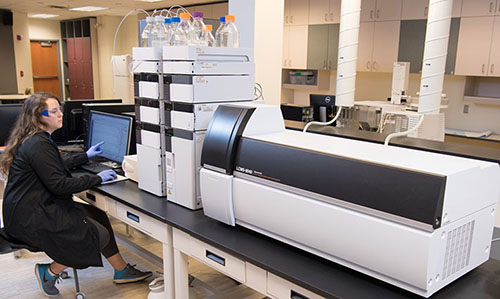 The High-Performance Liquid Chromatograph - Mass Spectrometer in Ferris State University's Shimadzu Core Laboratory for Academic and Research Excellence will support research into Anthacyclinone Drug Molecules as part of a three-year, $407,900 grant from the National Science Foundation. Associate Professor of Medicinal Chemistry Eric Nybo is a principal investigator in the study.
Several students returning to Ferris State University for the 2020-21 academic year will have the opportunity to support research funded by the National Science Foundation while working with professors from the College of Pharmacy and the College of Arts, Sciences and Education. The project is part of the NSF Facilitating Research at Primarily Undergraduate Institutions, which funds faculty-driven research that heavily incorporates undergraduate students. The project is a three-year, $407,900 grant entitled, "NSF RUI: BIOPOLYMER – BIObricks® POLYketide Metabolic EngineeRing platform."

Professor Eric Nybo, a principal investigator of the study, is an associate professor of Medicinal Chemistry in the Pharmaceutical Science program. Nybo said the project focuses on the genetic engineering of BioBricks® genes, which can encode the blueprints for biosynthetic pathways that can be expressed in microbial cell factories. The microbial cell factories that his group uses are actinomycetes, gram-positive, soil-dwelling bacteria that are known as "nature's antibiotic factories." The researchers will engineer actinomycetes to produce "anthracyclinones," which are chemical cousins of antibiotics, anticancer drugs, and various other commodity chemicals.

"A presentation made at the 2019 West Michigan Regional Undergraduate Science Research Conference last fall was a key component in our success with this grant," Nybo said. "The NSF program is intended to facilitate research at schools that are primarily undergraduate institutions. We are conducting engineering of microbial cell factories, which will expose the students to research in metabolic engineering, natural products chemistry, and analytical chemistry practices. We call this production platform by the acronym, BIOPOLYMER – BIObricks® POLYketide Metabolic EngineeRing platform."

Professor Schuyler (Sky) Pike, an assistant professor in Biological Sciences and director of the Shimadzu Core Laboratory for Academic and Research Excellence, is a study co-principal investigator, with Nybo. Pike said they plan to select four students from the undergraduate ranks in science, technology, engineering or mathematics to be involved in this project.

"Students from Ferris' Biotechnology, Biology and Chemistry programs are likely to present the most qualified candidates," Pike said. "These students must be capable of comprehending the chemistry and biology of our compounds, which will provide them an incredible experience while they work to support their educational costs. Some of their laboratory efforts will involve working with our Nuclear Magnetic Resonance (NMR) Spectrometer, and the High-Performance Liquid Chromatography-Mass Spectrometer (HPLC-MS). The ability to access and operate such equipment is a unique prospect, a graduate school-level opportunity that should present a great boost to their career prospects."

Nybo said their student workers are also responsible for producing a bi-weekly podcast on various STEM topics.

"They will choose their topics, but some of the prospective subject areas could include genetic engineering and attitudes toward genetically modified organisms," Nybo said. "It should be another excellent learning activity for these students, and a valuable addition to their educational experience, and resumes."

Nybo added that Mikko Metsä-Ketelä, an associate professor of Biochemistry with the University of Turku in Finland, is a collaborator in this research effort, which saw its formative funding offered in an ADVANCE grant from the Michigan Economic Development Corporation.