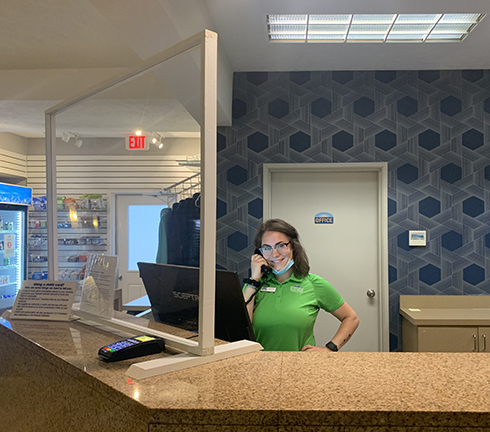 Malorie Reno, a Hospitality Management student at Ferris State University, is completing a manager-in-training internship this summer with the Grand and Sugar Beach Resorts in Traverse City. Some opportunities have been compromised by the impact of the COVID-19 pandemic, though certain disciplines such as Manufacturing Engineering Technology saw the brisk placement of students this year.
Valuable summer career exposure is more of a challenge for Ferris State University students, given the implications of the COVID-19 pandemic. Still, students have already received opportunities, and others will soon, according to departmental internship coordinators.
Manufacturing Engineering Technology's Mark Rusco, an associate professor in the School of Design and Manufacturing, said that their interns include students who study in Big Rapids fulltime and Grand Rapids-based students who already work in production roles with regional manufacturers.
"We have let our students know that there was no problem if there was a delay with their start date for their internship, with similar support if their participation extended past the typical end date for this class," Rusco said. "Many of our Grand Rapids students are experiencing an elevation of their role and duties with their employer for the purposes of their internship experience."
Rusco added that Grand Rapids-based students have more opportunities to find internships, given the breadth of operations in their area. The Manufacturing Engineering Technology program has also agreed to permit two students, including Lucas Hubbell, of Wyoming, to complete internships while they establish their businesses, with Rusco to serve as their advisor.
"I recently left my previous role as a mechanical design engineer, having chosen to form my own company, Hubbco LLC," Hubbell said. "My main product is a car lift that should be useful to clients who participate in motorsports, as it is portable at 62 pounds, but can raise a vehicle on four points in just eight seconds. My internship requires that I spend an appropriate amount of my time reflecting on my activities, followed by developing a report to determine whether we following best practices."
Finding the appropriate match for the student and the internship is an essential part of the process.
"They are in the same boat since each is several years older than the typical Manufacturing Engineering Technology student intern," Rusco said. "The other intern is based in Lake City, fabricating boat bodies in his shop. In his region, there are significant limitations in terms of the ability to secure other opportunities along with added market restrictions due to COVID-19. We are very interested in seeing how these internships progress. We want each student to be able to achieve their goals and complete the class."
Associate Professor of Hospitality Management Kathryn Wolfer said that the hospitality industry is among business sectors significantly impacted by COVID-19.
"The key for our interns being successful in their internship pursuits was to communicate with them regularly and to be flexible," Wolfer said. "As we are in the College of Business, we have accepted proposals with any operations that provides the student an opportunity to work with customers, and gain experience."
Wolfer said the college has students in resorts, breweries, summer camps and grocery stores, along with restaurants and banks, which will provide those desired exposures with the public.
"Our goal is to have these students on the job and active this summer," Wolfer said. "We believe they can make appropriate gains from their experience."
Malorie Reno of Bay City is several weeks into her assignment as a Manager In Training intern at the Grand and Sugar Beach Resorts in Traverse City. She said there was great uncertainty that she and other students felt, as the hospitality industry responds appropriately to issues like customer and staff safety, while providing internship opportunities to future professionals.
"I greatly appreciate the support of my internship manager, who is a Ferris alumnus, as he was able to guide me through all of the rules and regulations that needed to be followed at the resort," Reno said. "I couldn't have asked for a better opportunity or company to learn the ropes of management, as well as finding ways to get creative with guest satisfaction during a pandemic that requires social distancing. My positive takeaway from this is that I have been given the opportunity to learn and work during a pandemic and if something like this happens when I am working in the industry, I can rely on this experience."