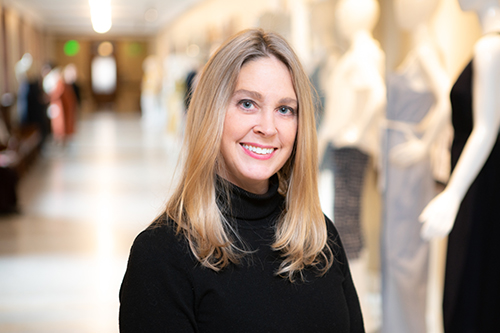 Lori Faulkner
Kendall College of Art and Design Associate Professor and Fashion Studies Program Director Lori A. Faulkner has been named Ferris State University's Distinguished Teacher Award recipient for 2019-20.
It was a relatively unique opportunity that came Faulkner's way in early 2012, as KCAD administrators invited her to chair their Fashion Studies program and granted her freedom to create the curriculum from the ground up. Faulkner holds degrees from Michigan State University, Central Michigan University and the Fashion Institute of Technology in New York City. She started her career as an educator at Michigan State, where she won the 2006 Distinguished Academic Staff Award.
"There was a great deal of flexibility offered and a good many things to do, such as creating the workspace for our students, procuring the necessary equipment for instruction, and setting the structure for our first year of classes," Faulkner said. She quickly established program specifics and developed the space for the Fashion Studies program in the Woodbridge N. Ferris Building in Grand Rapids.
"I want students to understand that Fashion Studies is more than developing the ability to create cool clothing," Faulkner said. "We have worked to create a safe environment for our students to experiment, learn and connect with the industry."
Having worked in various positions within the apparel industry, Faulkner realized practical experience could be combined with academic learning to create a unique program. She further understood that companies needed creative problem solvers as they manage rapidly changing marketplaces.
One opportunity Fashion Studies students can pursue is completing their studies at the renowned Fashion Institute of Technology in New York. As an alumna, Faulkner said she is glad that this collaboration is available to her students and has grown.
"Our graduates enjoy a high rate of employment in the industry, working to establish career paths in marketing, distribution and creation of fashion products," Faulkner said. "Having FIT as a partner provides students a great opportunity to make connections with leading designers and manufacturers so they can best pursue their goals."
Faulkner said another highlight for the Fashion Studies program was a 2014 visit from Steven Kolb, the president and chief executive officer of the Council of Fashion Designers of America in NYC. Kolb received an Honorary Doctor of Arts degree and, beyond his commencement address, he spoke to students and Pamella DeVos, offering encouragement and career advice.
"We were moving toward our first graduating class of Fashion Studies students at that point," Faulkner said. "It was an opportunity to celebrate our development and success, in the company of two very significant names in the fashion industry." The first BFA recipients in KCAD'S Fashion Studies program celebrated their success in 2015 and Faulkner said the program continues to expand its range of opportunity for its students.
"Our students are afforded incredible opportunities, each time we embark on a Fashion Studies trip," Faulkner said. "Thanks to the support of the DeVos Foundation, we have sent students to events in New York City, Hong Kong and China, Australia and Europe. The support from the Daniel and Pamella DeVos Foundation continues to this day and has been a most wonderful element of our school and our program's achievement and pursuit of excellence."
Fashion Studies graduates are also encouraged to work toward community collaboration, something Faulkner said has brought them in contact with one of the world's best-known performers.
"For Elton John's final concert at Van Andel Arena in 2018, KCAD teamed up with SMG, the arena's management group to sponsor a contest for students to submit costume designs," Faulkner said. "The winning student received a $1,000 stipend to make the costume which stood outside his dressing room. Sir Elton was so taken with the work; he has it featured on his Instagram story, which is a great honor for our students and the program."
Other opportunities for Fashion Studies students include the creation of clothing for Rockford-based Johnny Agar, a triathlete with cerebral palsy in collaboration with Under Armour, the development of costumes for the Grand Rapids Ballet, and working with DisArt to support youthful patients at Spectrum Health.
"There are children who need outfits that provide compression to help them manage their neuromuscular disorders," Faulkner said. "Since they are growing and rapidly move through these products, we created clothing that was low-cost, but provided them the attributes they needed to have some comfort and greater potential to achieve their physical goals."
Internships are a part of the program where students can practice their skills and experience learning in the workplace. Past opportunities include working with Marchesa, Boston Crusaders, Grand Rapids Civic Theatre, One Stop, Crowned Free, Conscious Clothing, Public Thread and Grand Rapids Public Museum.
Faulkner said there have been capstone fashion shows held annually to show that her students' designs and collections can also serve to benefit people of all kinds in their community.
"The collaborative efforts we have been able to take part in are a unique element of the learning our students are able to experience," Faulkner said. "It is my hope that these opportunities foster inspiration and the imagination of our students so they can achieve great things while giving back to their communities."
Faulkner is KCAD's second recipient of the Distinguished Teacher Award. Drawing Professor Emeritus Deborah Rockman was honored in 2018.
"I am so honored to have been nominated for this award," Faulkner said. "I am humbled and excited to be selected as the recipient of the 2019-20 Distinguished Teacher Award."
Below are the other Academic Affairs Awards for the 2019-20 academic year.
Academic Scholar Award: Kali M. VanLangen, Professor of Pharmacy, College of Pharmacy
Non-Tenure Track Teaching Excellence Award: Jordan C. Horan, Instructor of Social Sciences, College of Arts, Sciences and Education
Distinguished Service Award: Suzanne Eberle, Professor of Art History, Kendall College of Art and Design
Distinguished Teacher Award: Lori A. Faulkner, Associate Professor of Fashion Studies, Kendall College of Art and Design
Diversity Enhancement Award: Anuli U. Njoku, Associate Professor of Public Health, College of Health Professions
Excellence in Assessment Award - Beyond Course Level: 2019-2020 Michigan College of Optometry Assessment Committee (Members: Alison Jenerou, Lillian Kalaczinski, Amy Dinardo, and Sarah Hinkley)
Excellence in Assessment Award - Course Level: Kathryn Wolfer, Associate Professor, Sports, Entertainment, and Hospitality Management, College of Business
International Educator Award: Lianne Briggs, Professor of Sports, Entertainment, and Hospitality Management, College of Business
Outstanding Academic Advisor Award: Dave Schrock, Academic Advisor, College of Arts, Sciences and Education
Outstanding First-Year Advocate Award: Not awarded this year due to no nominees
Richard W. Griffin Political Engagement Award: Not awarded this year

Previous Distinguished Teacher Award Recipients:
2019—Tracy Nichols Busch
2018 – Deborah Rockman
2017 – John Scott Gray
2016 – Sharon Colley
2014 – Jennifer Johnson
2014 – Gary Huey
2013 – Avesh Raghunandan
2012 – Clifton Franklund
2011 – Greg Gogolin
2010 – Richard Goosen
2009 – Daniel Adsmond
2008 – Khagendra Thapa
2007 – Mary Murnik
2006 – Pasquale Di Raddo
2005 – Robert McCullough
2005 – Fred Heck
2004 – David Pilgrim
2003 – Phillip Middleton
2003 – David Hanna
2003 – David Aiken
2002 – Sheila MacEachron
2001 – J. Randall Groves
2001 – Abdollah Ferdowsi