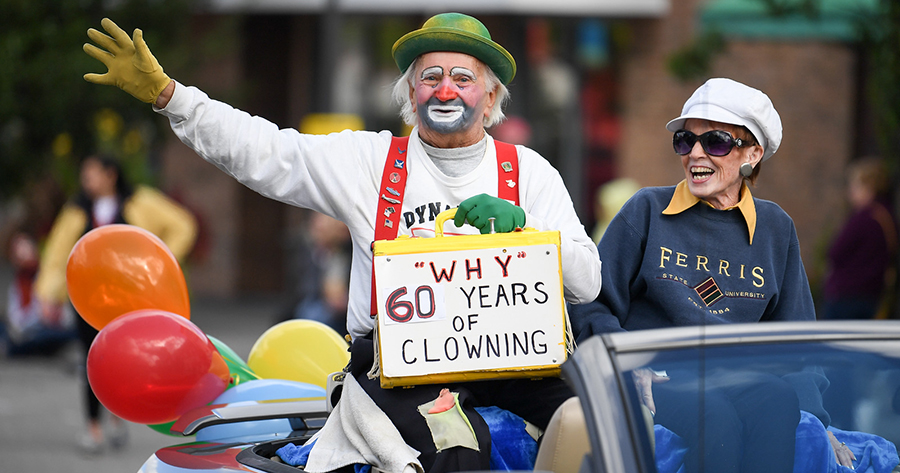 PHOTO CAPTIONS: The theme for Ferris State University's 93rd Homecoming, with activities beginning Wednesday, Sept. 25 is "Bark With Pride." Above is the famous Dynamite the Clown. Tailgating for the 3 p.m. Homecoming football game against Northern Michigan begins at 11 a.m. with the annual Homecoming parade through downtown Big Rapids to start at 12 p.m.

The celebration of Ferris State University's 135th anniversary continues Monday, Sept. 23 with a week full of opportunities for students, faculty, staff, alumni and friends to embody the Homecoming 2019 theme and "Bark with Pride."
Three senior campus leaders hope to become Ferris' Homecoming Ambassador, with students encouraged to vote via the Bulldog Connect app starting at 8 a.m. Monday, Sept.
23. This year's candidates to reign over the 93rd Homecoming football game are Raina Brink, of Vanderbilt; Olivia Pahl, of Grand Ledge; and Daniel Rivera, of Grand Rapids. Voting concludes Thursday, Sept. 26 at 11:59 p.m.
Homecoming 2019 student activities continue with a Field Day on Wednesday, Sept. 25, beginning at 7:30 p.m. at Top Taggart Field.
Center for Leadership, Activities and Career Services Activities Coordinator Nick Smith said that tickets are available to students and the public as comedian Marlon Wayans entertains Thursday, Sept. 26 at Williams Auditorium in an 8 p.m. performance.
"We have adjusted our offerings for Homecoming 2019, with a Pep Rally planned for 9 p.m. Friday, Sept. 27 in the University Center's Rankin Atrium and Campus Quad," Smith said. "CLACS' organizers welcome the public to join us for Wayans' appearance, and the opportunity to get pumped up for the Bulldogs' game against Northern Michigan on Saturday."
The College of Pharmacy will welcome all visitors for tours and refreshments during the rededication of the Hagerman Pharmacy Building, which will begin at 3:30 p.m. on Friday, Sept. 27.
Director of Alumni Relations Brandi Behrenwald said the University Center Ballroom will provide the backdrop for fond memories and a celebration of excellence, beginning at 6 p.m. Friday, Sept. 27.
"That evening, we welcome the Class of 1969, who will be honored as Golden Eagles at our annual Fall Reunion," Behrenwald said. "They will take a bus tour of campus and downtown Big Rapids during the day, and dozens of these special alumni will be honored with a slideshow at the reunion and medallions that commemorate their participation in this great event. We are also excited to honor our Distinguished Alumni and Pacesetter award winners at the Reunion."
While organizations across campus, Big Rapids community groups, police and fire
departments participate in the annual parade through downtown Big Rapids at 12 p.m. on Saturday, Sept. 28, Behrenwald said the Homecoming tailgate will await these large crowds, as it begins at 11 a.m. outside Top Taggart Field.

"We are very excited that football alumni Brian and Jeff Carmody, whose Buffalo Wild Wings locations include Big Rapids, will serve as Grand Marshals for the parade and Homecoming," Behrenwald said. "It is also great that the Black Alumni Tailgate and our Alumni Welcome Tent are now side-by-side at the tailgate. This year's 50th anniversary celebrations for the Delta Sigma Theta sorority and the Kappa Alpha Psi fraternity are significant events. Alumni and tailgaters will find all the college welcome and alumni tents nearby, offering commemorative items and wonderful company ahead of the Homecoming game."
The Bulldog football team, ranked second nationally in Division II, will seek to remain undefeated at home for 2019 as it hosts the Northern Michigan Wildcats at 3 p.m. Ferris' volleyball and soccer teams will also have home matches during Homecoming weekend.
To follow the social media conversation, use #FerrisHC2019.