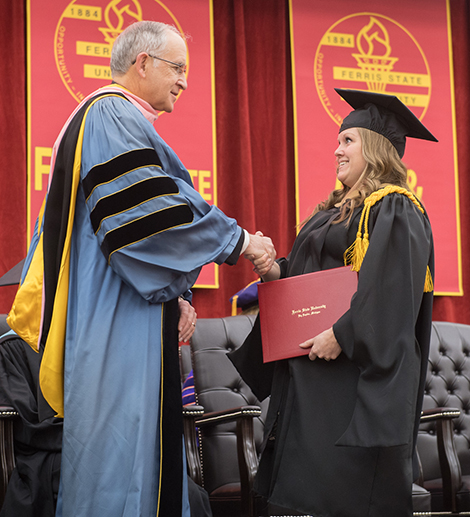 Nearly 1,900 graduates of Ferris State University will participate in commencement exercises on Friday, May 10 and Saturday, May 11. The images are from past commencement ceremonies hosted in Jim Wink Arena in Big Rapids.
Ferris State University will host ceremonies for 1,800 graduates participating in Spring 2019 commencement exercises Friday, May 10 and Saturday, May 11 in Jim Wink Arena.
As part of the Spring 2019 ceremonies, in keeping with tradition, honorary doctorate degrees will be conferred to Timothy Murphy, the former deputy director of the Federal Bureau of Investigation; Michael Shibler, superintendent of Rockford Public Schools; and Teresa Weatherall Neal, superintendent of Grand Rapids Public Schools. All three will receive the Honorary Doctorate of Public Service. Weatherall Neal will address graduates of the College of Arts, Sciences and Education, the College of Pharmacy, the Doctorate in Community College Leadership and University College at the 7 p.m. ceremony on Friday, May 10. On Saturday, May 11, Shibler will address graduates of the College of Business, in the 9 a.m. ceremony, while Murphy, an alumnus, will speak to graduates of the College of Education and Human Services, at 12:30 p.m.
Below are biographical capsules of the Spring 2019 honorary doctorate recipients:
Murphy earned his bachelor's degree in Criminal Justice from Ferris' College of Education and Human Services, in 1983. He went on to become a police officer and, in 1988, joined the FBI as a special agent. Murphy later served as the FBI's special agent in charge of its Cincinnati field office, the bureau's chief financial officer and chief operating officer. Later, he was named deputy director, the agency's second-highest position. Murphy and his wife, Diane, have given back to Ferris through a scholarship fund. He has been an advisor to the Criminal Justice program and serves on The Ferris Foundation Board of Directors.
Shibler has served as superintendent for Rockford Public Schools since 1989. Through his leadership and support, Rockford Public Schools has become Ferris' strongest concurrent enrollment partner. Since forging this partnership, in 2013, Rockford students have earned more than 3,300 college credits toward their post-secondary education and saved more than $1.6 million in tuition. Shibler's contributions include a spot on the board of directors for the Rockford Area Chamber of Commerce and the Rockford Economic Development Corp. He is also a member of the Rockford Education Foundation Board of Trustees and the YMCA Board of Trustees.
Weatherall Neal has worked for Grand Rapids Public Schools for 44 years. She and GRPS are active partners with Ferris through education innovations such as the Grand Rapids Public Museum School; the Academy for Teaching and Learning at Innovation Central High School, a teacher cadet program geared toward the development of a pipeline of diverse teachers; and the Harrison Park Middle School college prep course for parents of middle school students. Weatherall Neal has served as a member of the Spectrum Health Communities board of directors for 14 years and serves on the boards of Covenant House of Michigan, Kent Schools Services Network, and Challenge Scholars Program. She volunteers on the board of The Economic Club of Grand Rapids, Helen DeVos Children's Hospital, President Gerald R. Ford Educational Foundation and Collective Impact Kent County.
The 2,000-plus May graduates include 635 students completing degrees during the Summer 2019 term.
Students planning to participate in Spring 2019 commencement ceremonies are allotted up to six electronic tickets. No extra e-tickets will be distributed by the Commencement Office or the individual college commencement coordinators. Lost tickets will not be replaced. Guests who do not have tickets can watch the ceremonies via live stream on the Commencement Office website or a large screen from an alternate viewing location in the Ewigleben Sports Complex. Click special accommodations for more information.
E-tickets are required to attend all Big Rapids commencement ceremonies. Children 2 years old and younger do not need a ticket.
Kendall College of Art and Design hosts its commencement ceremony on Saturday, May 11 at the Forest Hills Fine Arts Center in Grand Rapids beginning at 10 a.m. Tickets are required to attend.
Spring 2019 Commencement Ceremonies
Friday, May 10 and Saturday, May 11
Ewigleben Sports Complex (Jim Wink Arena)
Friday, May 10
3:30 p.m. (Jim Wink Arena doors open at 2:30 p.m.)
College of Health Professions
Michigan College of Optometry
7 p.m. (Jim Wink Arena doors open at 6 p.m.)
College of Arts, Sciences and Education
College of Pharmacy
Doctorate in Community College Leadership
University College (Retention and Student Success)
Speaker: Honorary Doctorate – Teresa L. Weatherall Neal, Doctorate of Public Service
Saturday, May 11
9 a.m. (Jim Wink Arena doors open at 8 a.m.)
College of Business
Speaker: Honorary Doctorate – Michael S. Shibler, Doctorate of Public Service
12:30 p.m. (Jim Wink Arena doors open at 11:30 a.m.)
College of Education and Human Services
Speaker: Honorary Doctorate – Timothy P. Murphy, Doctorate of Public Service

4 p.m. (Jim Wink Arena doors open at 3 p.m.)
College of Engineering Technology