PHOTO CAPTIONS: (ABOVE) Renovations continue during the Spring 2019 semester in Ferris State University's Hagerman Pharmacy Building. Among the amenities to be available on the first floor are (from top left, following clockwise) an Active Learning classroom, a patient interaction area, an Active Pharmacy (pictured below, top) to facilitate student learning inpatient service and consultation, and a simulation suite (pictured below, bottom) to present realistic patient interactions in a medical office and hospital/nursing home scenarios. (Images c/o Ellenzweig/Integrated Design Solutions)


Students, faculty and staff in Ferris State University's College of Pharmacy have taken up Spring 2019 semester classwork and instruction in a very active space, with the first phase of renovations to the Hagerman Pharmacy Building underway.
Rockford Construction Company has project oversight, according to Michael Hughes, the university's associate vice president of Physical Plant.
"Work began immediately after the Fall 2018 semester was completed," Hughes said. "Key elements of the first phase of renovation include developing an active learning classroom, a simulation suite where students can practice response that might be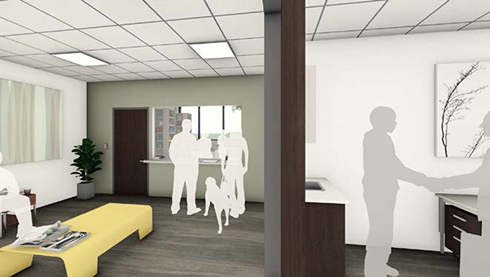 offered in a hospital ward setting or a physician's consultation area, an active pharmacy suite and a patient interaction area."
Work on these aspects of phase one renovations will continue in the west wing of the Hagerman Pharmacy Building through August 2019. Hughes said that the College of Pharmacy's administrative suite has been relocated to the southeast corner of the building's second floor.
"A renovation project in an occupied building can present certain significant challenges for all involved, whether they are students or the construction professionals," Hughes said. "We have been very conscious of all the actions that are required to keep classes going and take up necessary activities such as asbestos abatement and changes to instructional space. Joseph Haupt, our senior project manager in Physical Plant, has been very diligent about relaying information so that students and staff are informed of the particulars of this project."
College of Pharmacy Dean Stephen Durst said that the first phase of renovations is crucial to the implementation of an advanced curriculum that has been designed to promote active learning. Durst noted that faculty, staff and students met directly with architects to develop the initial plans and to consider options for the future second phase of renovation.
"It has been a pleasure to see the various groups and sub-groups reach a consensus and prioritize each element of the renovation," Durst said. "I have been especially
impressed by the in-depth conversations that have occurred between Joe Haupt, the general contractors and college stakeholders. I know we will have an outstanding facility as a result of the collaborations."
Durst said there is similar consensus college-wide about the benefits that will be gained when the first phase of renovation is complete, and classes commence in the Fall 2019 semester.
"The simulated environments will allow students to practice their skills in many of the settings where they would meet with patients, as pharmacists," Durst said. "This pedagogy should promote greater engagement between our faculty and students, and as renovations to the Hagerman Pharmacy Building continue, we will be intentional to carefully develop each element. Our goal is to provide our students the most authentic learning experience possible."
Durst said that the faculty, staff and administrators from the college made considerable efforts to clear the way for renovations on the first floor of the building and to provide space for what will be a permanent relocation of Pharmacy's administrative offices on the second floor.
"We value this placement in the heart of the building, which has provided greater opportunity to interact with our faculty and students," Durst said. "There is great anticipation about all that we will be able to offer when first-phase renovations are completed late this summer, and even greater possibilities for the college as this process continues."