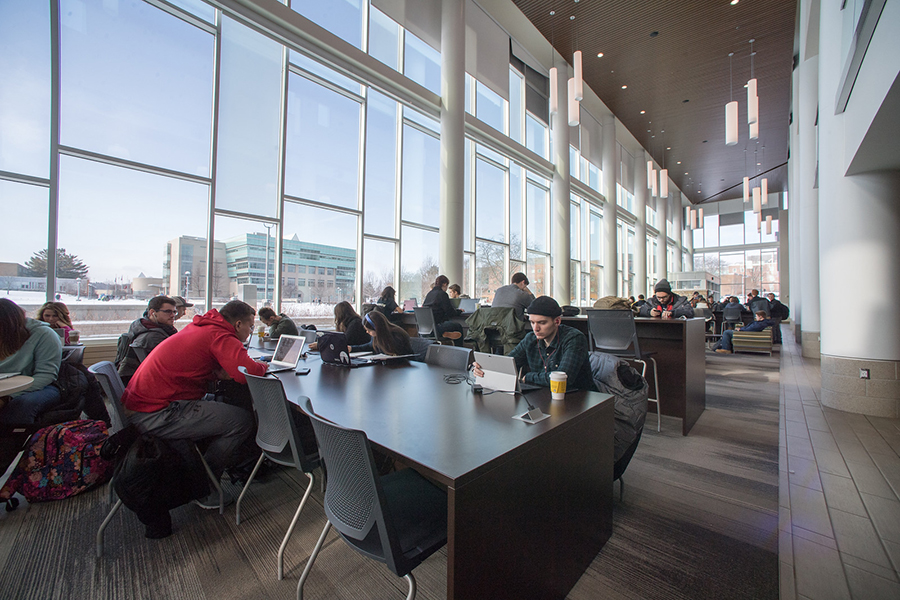 PHOTO CAPTION: Shown here are scenes from Ferris State University's Big Rapids campus (above and below). Ferris was highlighted by study.com as one of the "Most Affordable Colleges."

Ferris State University "comes at a price that's wallet-friendly" according to a recently-released list of the "Most Affordable Colleges" that was published by the website study.com. The rankings are based on data that the site provided by the Department of Education and the National Center for Education Statistics.
Among the 50 ranked schools, Ferris was listed 37th. Factors included in Ferris' top-40 ranking were its facilities, financial aid, 16:1 student-to-teacher ratio, 200-plus student
organizations, scholarship offerings and more than 190 academic majors. The website further recognized the participation in the Tuition Incentive Program, which benefits qualified students enrolled in an associate degree program taking classes that count toward the completion of that degree.
"At Ferris, we take great pride in providing our students a high-quality education. We're working to continue to make a college degree accessible to our students and families while striving to minimize loan debt," said Jeanine Ward-Roof, vice president for Student Affairs. "Study.com's analysis further reflect the well-rounded college experience that we feel we provide our students in preparation for success after college with the benefit of a Ferris degree."
Study.com further factors the cost of living, financial aid, scholarships and tuition among its consideration of colleges and universities that offer affordable, quality higher education opportunities. The ranked colleges and universities provide a range of academic degrees, including majors in popular areas such as business, education and nursing.
"The value Ferris offers is often higher than even that of a leading national institution, as we remain a significant and affordable option for our students," said Kristen Salomonson, dean of Enrollment Services. "We continue to carefully listen to what our students and their parents are telling us, and we're responding in a way that continues to make Ferris a preferred choice for many students."
Lake Superior State University, University of Michigan-Dearborn and Wayne State were among the Michigan-based universities to make the Study.com top-50 list.