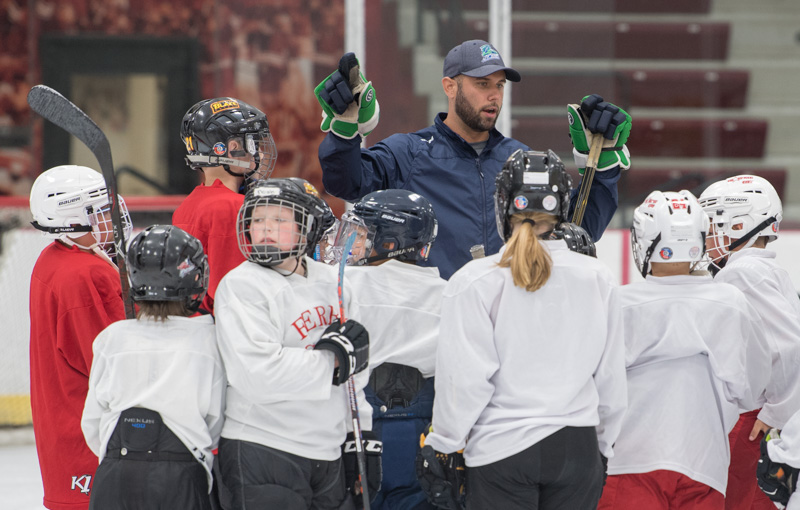 PHOTO CAPTIONS: Scrimmaging and on-ice drills were available to youngsters participating in four camps during late June and early July at Ferris State University's Ewigleben Ice Arena. Many of the skaters had Ferris players as counselors, as they had the opportunity to experience the university's residence hall accommodations and dining services.

Youthful players, possessing a variety of on-ice skills and desires, gathered at Ferris State University's Ewigleben Ice Arena for group hockey camps. The camp sessions provided attendees opportunities to work with coaches and players from Ferris' NCAA Division I program.
Bob Daniels, head coach of the Ferris hockey team, has led the Bulldogs' program for 27 seasons. He explained that the Group "C" camp, whose on-ice sessions wrapped up on the afternoon of Thursday, June 27, allows campers to display their talent as players.
"We have Associate Head Coach Drew Famulak and other assistant and head coaches from high school and college programs taking part in this session," Daniels said. "These players are
trying to get exposure, with the hope that they draw the attention of a collegiate or major junior hockey program. We provide them an opportunity to compete rather than offer them a chance to develop their skills."
Daniels said Ferris' varsity players and other coaches are more heavily involved with the Pre-Checking and Bantam Prep camps which ran from Sunday, June 23 through Thursday, June 27.
"It is a good experience for our players to be on the ice with the nine-to 16 year-olds, they are able to manage them, both on and off the ice," Daniels said. "We are excited to offer these youngsters a real campus experience."
Hunter Wendt, preparing for his sophomore season on the Ferris hockey team, was among the Bulldogs serving as camp counselors during these sessions, and the Commuter Camp, which concluded Wednesday, July 3.
"It has been a great experience. I really enjoyed being able to give the younger kids all the advice and support that I could," Wendt said. "The young players I spoke with when we were off-ice wanted to know what it was like to be a part of a collegiate program, along with questions about how they could improve their slap shot and other skills. It is totally inspiring to be around the campers."
Wendt said that he and the other Ferris players were also able to get in some personal development during the weeks of camp.
"David Cencer, our coordinator of athletic performance, had us in workouts at 6:30 a.m. each day, before we met up with the campers," Wendt said. "That got us amped up and ready to go."
Ferris sports camps continue throughout July on the Big Rapids campus. For more information, call toll free at (866) 950-2267 or inquire about camps online or by email.