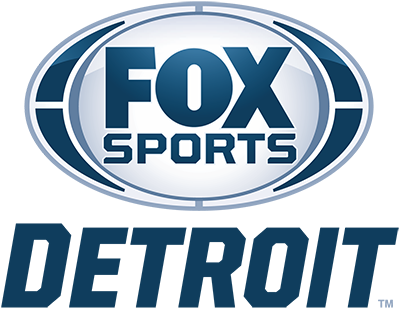 Two Ferris State University Television and Digital Media Production students saw the intricacies of live remote broadcasting firsthand. The students served as utility workers with Fox Sports Detroit when the regional television channel aired the Ferris-Grand Valley State University football game on Saturday, Nov. 9.
Andrew O'Rourke, a junior from Walker, said the group's work with the FSD crew began on Friday, Nov. 8, for the Anchor-Bone Classic, televised as part of Fox's "Football Week in Michigan" promotion.
"We helped lay wires and cables the day before to prep for the game coverage," O'Rourke said. "We assisted each of the four cameramen in set up, where they were going to operate their cameras. The day of the game brought us to the stadium early in the morning to run more cables from the truck to the sidelines and double-check everything we had staged during the prep day."
Matthew Able, a TDMP junior from Saline, has worked with Ferris Athletics in video production throughout the Fall semester. He worked with O'Rourke on the cable for a field-level camera.
"A couple of the FSD cameramen were alumni of Ferris' TDMP program," Able said. "I thought it was a cool experience, though we had a 5 a.m. call for the game, which started just after 12 p.m. We were airing the game and taking down equipment until 5 p.m., so it helped us understand what is involved in professional setup and production."
"Matt and I had to keep the cable wrapped, so the camera could move as necessary," O'Rourke said. "I have had to work to get the hang of the over-under cable wrapping technique until that day, where it felt like I did it thousands of times."
Able said this experience is in line with his goal for an internship, to continue his exploration of live broadcast production.
"I am interested in pursuing game presentations, possibly with the Northwoods League, a collegiate-level summer schedule that involves the top players from the United States, and international programs," Able said. "Many teams in the league offer live production of their schedule, which is of great interest to me."
O'Rourke said the experience advanced his learning that began in a TDMP Remote Production class.
"We would be either in the trailer, pushing the buttons for what shows up on the stream, or operate a camera filming the game," O'Rourke said. "I really enjoyed the experience and finally got a taste of how much work these crews actually do in a day."
Ferris was the second-ranked team in NCAA Division II when the Bulldogs hosted the Lakers at Top Taggart Field and came from behind to defeat their rivals, 21-16, to cap an undefeated regular season.