Ferris State University Fine Art Gallery visitors will be able to view atypical images produced through an adaptive painting method originally used by ancient Greeks, as Steve Barber's "Myths, Monsters and Mystery" debuts Thursday, April 11, with an artist reception at 5 p.m.
Barber, a Mount Pleasant, Michigan native, employs the encaustic technique of placing an oil paint and cold wax medium over an acrylic undercoat and describes his work as "scratching," due to the use of a pencil or stylus to develop his works.
"I feel the technique delivers a strong image, it gives some perspective and meaning, but I welcome the interpretation of the viewer as well," Barber said. "I use literary sources to develop my images, such as nonfiction, folklore and mythology."
Fine Art Gallery Director Carrie Weis described Barber's work as "some of the most interesting images I have seen in a very long time," and noted that prints will be available for purchase at the gallery, located in Room 205 of the University Center building.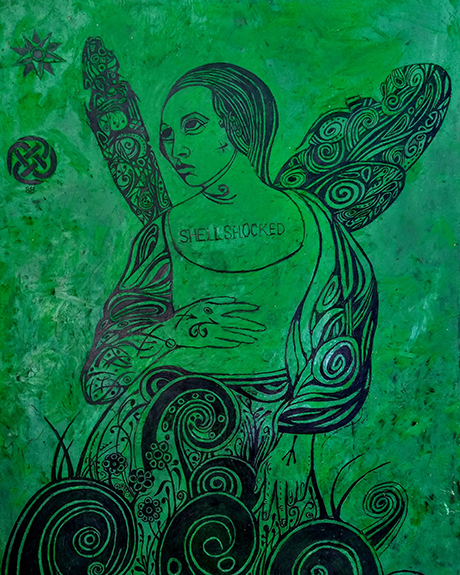 "Steve handles this medium, uniquely," Weis said. "The works are gorgeous to view and stimulating to reflect upon. I hope our campus takes a moment to stop in and take a look."
"A fair amount of these relate to my ancestry, so visitors will see Norse and Irish, or Celtic creatures, gods and goddesses," Barber said. "These are personal expressions, an attempt to give shape and image to portray my feelings."
Barber's exhibit is scheduled to display in the gallery through Friday, May 24. Visitors are welcome weekdays from 10 a.m. to 5 p.m., Saturdays from 11 a.m. to 3 p.m., and the gallery is closed on Sundays. Anyone requiring assistance to attend the April 11 event, or to visit the Fine Art Gallery is encouraged to call (231) 591-2536, or to contact Weis by email.

ART CAPTIONS: "From Within And Without" and "Aftermath" (angelic image in green) are among the encaustic paintings by Mount Pleasant artist Steve Barber, to be displayed in the Ferris Fine Art Gallery beginning Thursday, April 11. There will be a 5 p.m. reception on the first day of the exhibit, which will continue through Friday, May 24.