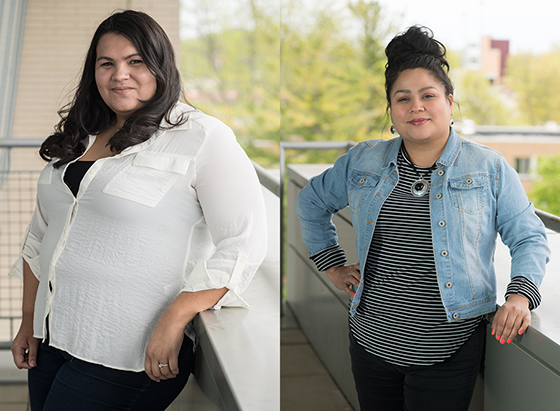 Two leaders in Ferris State University's Hispanic/Latino Cultural Center were to be honored on Friday, Oct. 12 as members of the inaugural class of Top 50 Latinas in Michigan. CLS Executive Director Kaylee Moreno and Program Coordinator Jessica Ledesma were named as recipients of this tribute earlier in the week, by the Hispanic Latino Commission of Michigan.
The commission, which is chartered under the state of Michigan's Department of Licensing and Regulatory Affairs, said the Top Latinas awards were established to recognize women who have distinguished themselves in their organization, profession and community. Award recipients in the 2018 class come from universities, colleges and public education, local government, corporations, nonprofit organizations and private businesses.
Moreno and Ledesma were among those scheduled to be recognized at the statewide Hispanic Heritage Month celebration on Oct. 12 at the Horizons Conference Center outside Saginaw. The Top Latinas award is one of seven categories that will be recognized at the celebration, and 10 Hispanic/Latino students will receive $1,000 2018-19 Future Leader Scholarships at the event. All recipients were nominated for consideration by the HLCOM.


PHOTO CAPTION: Hispanic/Latino Cultural Center Executive Director Kaylee Moreno (left) and CLS Program Coordinator Jessica Ledesma (right) have been named as part of the inaugural Top 50 Latinas in Michigan, with recognition for the recipients on Friday evening, Oct. 12, as part of the Hispanic Heritage Month celebration hosted by the Hispanic Latino Commission of Michigan near Saginaw.