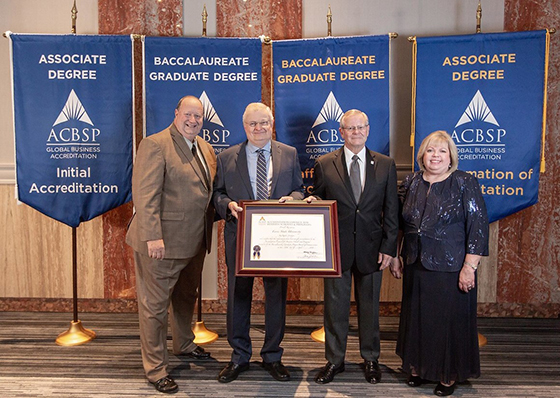 Ferris State University's College of Business learned recently that its accreditation, as an undergraduate and graduate-level provider of degree programs, has been reaffirmed by the Accreditation Council for Business Schools and Programs.
The ACBSP reaffirmation is specific to 23 Associate of Applied Science and Bachelor of Science programs offered by the university. The accreditation is valid through 2028. Ferris received its initial affirmation from the council in 2008.
COB Associate Dean Jim Woolen said he is proud of the college's ACBSP accreditation because of the rigorous educational standards they require of member institutions.
"I am personally proud of the ACBSP accreditation because we, as a college, have improved our processes and academic quality by using the council's standards to look inward," Woolen said. "The culture in the COB has shifted to more of a continuous improvement mode through constant conversations on how we compare with others and ourselves on meeting the ACBSP standards."
The accreditation is a point of pride for the college.
"I am proud of this accomplishment for our college and absolutely convinced of the necessity for accreditation," Woolen said. "Reaffirmation assures our current and prospective students of the educational quality they will receive in these programs."
The ACBSP is celebrating its 30th anniversary and is the only organization offering specialized business accreditation for all degree levels, from associate to baccalaureate to doctoral degree programs.


PHOTO CAPTION: (Left to right) Accreditation Council for Business Schools and Programs Chief Accreditation Officer Steve Parscale joins Ferris State University College of Business Associate Dean Jim Woolen, COB Dean David Nicol and ACBSP Chair of the Bac/Grad Commission Freda Hartman in celebrating the college's continued accreditation, during the 2018 ACBSP conference in Kansas City.