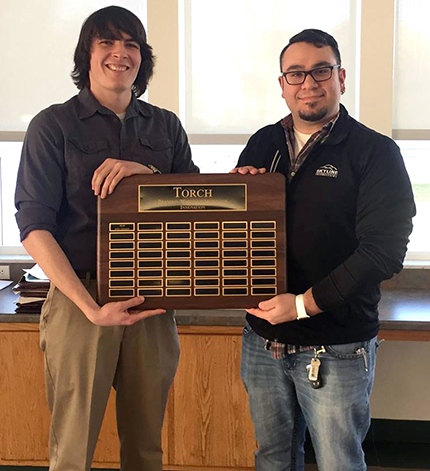 A recent Ferris State University graduate has been recognized for efforts made throughout his collegiate career to positively impact operations of the Torch, the campus' award-winning student newspaper.
Keith Salowich served as a staff member and supervisor with the publication, and recently received the Brandon Martinez Torch Award for Innovation, which was established earlier in the academic year. Salowich, a native of Gladwin, Mich., was editor-in-chief for two years and became web supervisor for the publication during the 2017-18 academic year.
Torch Adviser Steven Fox said Salowich encouraged opportunities to expand online traffic and readership of their content.
"Usage topped more than 200,000 page views in 2015-16 and reached nearly 190,000 in 2016-17," Fox said. "That two-year span was easily the highest and most consistent traffic the Torch website has ever seen. Keith embraced multimedia, including the encouragement of new ideas by staff members such as a podcast and photo galleries."
Salowich was also credited with developing the "About Us" section of the website, which created a record of past Torch staffers, along with a history of the student publication. Fox acknowledged the "Tire Fire" monthly satire circular and that the Torch's Facebook page has more than 2,500 followers.
The Brandon Martinez Torch Award for Innovation was created "to honor a staff member who displays attributes that involve seeking opportunities to improve the Torch in unique ways."
Martinez was a member of the Torch, in 2019-10, as an effort was led to place the online version of the publication on its own server, with a customized content management system. The editor-in-chief of the Torch, at that time, Kelsey Schnell, recalled the impact of Martinez's work and efforts.
"This allowed for greater content timeliness, multimedia, commenting, search engine optimization and professional experience for the staff," Schnell said. "I wholeheartedly support the Brandon Martinez Award for Innovation, especially if it highlights embracing new opportunities for creating something new: not just innovation as it pertains to technology."
Martinez continued to lend support to Torch staffers, as they worked with the web site he had created. The online version celebrated its one millionth page view during the Fall 2017 semester.


PHOTO CAPTION: Keith Salowich, (left) a May 2018 graduate of Ferris State University from Gladwin, Mich., recently was honored as the first recipient of The Brandon Martinez Torch Award for Innovation. Also pictured is Steven Fox, the faculty adviser for the Torch, the university's award-winning student newspaper.