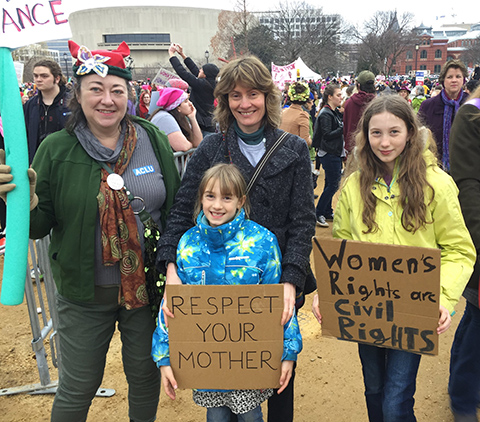 As part of Ferris State University's Women's History Month activities, its Museum of Sexist Objects is requesting photos and testimonies from participants in the 2017 Women's March on Washington, and the second-anniversary marches that took place in other cities, including Grand Rapids.
College of Arts, Sciences and Education Associate Professor of History Tracy N. Busch, the lead faculty member for MoSO, said Ferris students, faculty and staff who took part in these events, either or both years, are being encouraged to share any pictures and stories of participating in the demonstrations. Millions across the country were active in the inaugural event advocating for civil rights, women's rights and other social justice issues, in light of statements made during then-candidate Donald Trump's campaign for the presidency, in 2016, and his subsequent election and inauguration.
"I went with my family to Washington, D.C. on Jan. 21, 2017, so our daughters could experience standing up for what they believe. Although we don't fully see the effects, yet, I don't doubt that we will look back and see the 2017 Women's March as a turning point in our nation's history," Busch said. "Deirdre Fagan, from the university's English department, was among those who encouraged students to take part in the anniversary marches in Lansing and Grand Rapids, this year, because we sense it will continue as an important event."
Busch said the plan is to offer those pictures and stories that are contributed on the Museum's social Facebook page, and its website. Donated objects, such as T-shirts, buttons or other memorabilia will become a part of the Museum's permanent collection.
"It is our hope that the Museum can serve as a catalyst for those who want to see change but are not sure how to go about it," Busch said. "One of the main problems of sexism is the silencing effect it has on women. The purpose of the MoSO is very similar to that of the Women's March, which is to help women find their voices."
Busch said those who offer their personal stories and reactions to participating in and experiencing the events have the latitude to summarize or expand upon the incidents in their lives that prompted them to respond.
"What happened to Hillary Clinton was not new. I remember both liberals and conservatives fretting over the possibility that Geraldine Ferraro would have access to the nuclear codes if she was elected vice president, in 1984. Sarah Palin's vice presidential run, in 2008, was mocked in the media, and she was harassed and vilified," Busch said. "I think many who watched these developments over the years kept their feelings and concerns locked inside of them. One of the goals of the Museum is to help people move from theory to practice and to help bring about real change with regard to sexism, gendered violence and female stereotypes."
Busch said all photos and written testimonies can be offered to the Museum by email.


PHOTO CAPTION: College of Arts, Sciences and Education Associate Professor of History Tracy N. Busch (right) with her family at the Jan. 21, 2017 Women's March on Washington. Busch is lead faculty for Ferris State University's Museum of Sexist Objects, which plans to post photos of Ferris students, staff and faculty who participated in sister marches that day, or in 2018, along with their testimonies, as part of March's Women's History Month celebration.