PHOTO CAPTION: Here are scenes from past celebrations of the anniversary of the 2015 opening of the University Center building at Ferris State University. Above is karaoke, in the Rankin Atrium, while below are students having fun being in a photo.


Ferris State University is excited to celebrate the third anniversary of the University Center's 2015 opening, on Friday, Jan. 19, from 9 p.m. until 12 a.m.
Featured celebration activities include: roller skating in the ballroom, living statues, a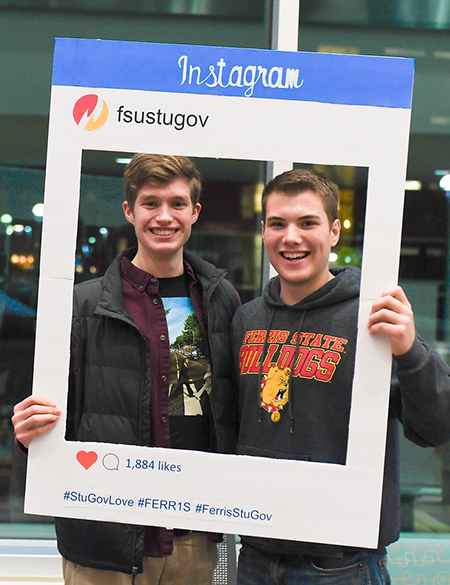 Miracle Mirror, street sign novelties, karaoke, an ice cream float bar, door prizes, giveaways, food and more. The event provides students an opportunity to unwind after a busy week of classes and activities as they head into the weekend.
"We will have the first-and second-level main streets, along with the event space, filled with all kinds of entertainment," said Mark Schuelke, the University Center director in the announcement about the Spring Welcome, a series of events to start the new semester. "Working in collaboration with CLACS (the Center for Leadership, Activities and Career Services), Entertainment Unlimited and the Dining Services office, there will be a roller skating rink, Miracle Mirror photos available and a variety of food items available from 9 p.m. to 12 a.m."
Anyone needing special accommodations to attend this event should contact Shana Beisiegel, in the University Center, at (231) 591-5917 or [email protected] at least 72 hours in advance.
Below is a video highlighting the second-anniversary celebration, from January 2017.