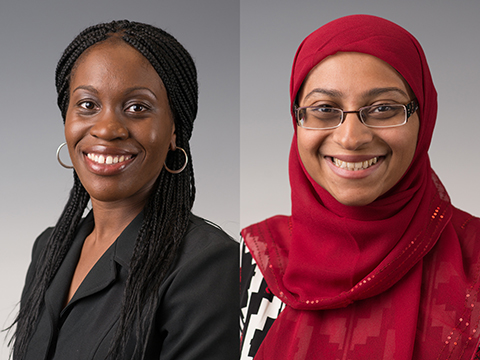 Assistant professors in Ferris State University's Public Health program have collaborated on an article that was published July 11 in the online issue of the journal, Pedagogy in Health Promotion.
Anuli Njoku said the work, "Infusing Health Disparities Awareness into Public Health Curricula at a Rural Midwestern University," is an outgrowth of her participation in the Health Equity Leadership Institute (HELI) at the University of Wisconsin in Madison. She participated in the intensive summer workshop, in 2016; her co-author, Fathima Wakeel attended HELI, in 2015.
"We learned in HELI, that as researchers, the process calls for us to come forward with a product," Njoku said. "Generally, those who attend the institute work on acquiring grant funds or writing manuscripts. Our 'deliverable' is this paper, as Fathima and I discovered that we were each placing elements of health disparity consideration in our coursework which is offered across the Public Health curriculum."
Njoku said they began the documentation and content review process in Fall 2017.
"As we live and teach, in an area of the rural Midwest, we are able to observe and detail incidence of health disparities, as they relate to such factors as a recipient's gender, race or socio-economic status," Njoku said. "Fathima and I feel that we were able to make the issues regarding these disparities clearly understood while emphasizing the importance of finding remedies to the shortcomings that were discovered."
Njoku said that Ferris' College of Health Professions' faculty and staff are committed to incorporate content to detail health disparities in the Public Health curriculum, in both the Bachelor of Science and Master of Science degrees.
"This is a step in an ongoing process," Njoku said. "The Faculty Center for Teaching and Learning, or FCTL was a key collaborator. It can be a complex process for professors to meet the demands of instruction and find time to invest in research and writing. We acknowledged the FCTL in our article, giving them due credit for the support that the center has provided to new faculty."
Wakeel and Njoku were part of FCTL's Junior Faculty Fellows program.
"The key considerations in this program are teaching, scholarship and service," Njoku said. "Our project calls on us to teach awareness of health disparities and to assess the impact that this instruction has on our students. We have presented our research at a professional conference and shared this with our peers on campus. I also made a presentation on this subject last December, in Thailand, which was supported by an FCTL grant."
Njoku said she and Wakeel would be continuing their work on health disparities, through research and offer presentations on their findings.


PHOTO CAPTION: Assistant professors of Public Health Anuli Njoku (left) and Fathima Wakeel (right) recently had an article, "Infusing Health Disparities Awareness Into Public Health Curricula at a Rural Midwestern University," published in the scholarly online journal Pedagogy in Health Promotion.