The parade through downtown Big Rapids is annually a highlight of the Ferris State University Homecoming celebration.
Click here for a brief video highlighting the Homecoming 2016 celebration.
A wide variety of activities are scheduled from Sept. 19-24, as Ferris State University celebrates its 90th homecoming, with 2016's theme being "We the Bulldogs."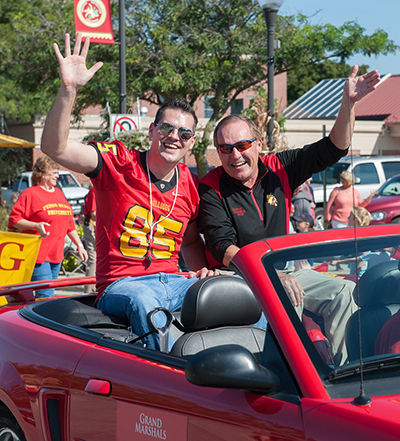 Director of Alumni Relations Brandi Behrenwald said that some of the events on homecoming Saturday, Sept. 24, will start later in the day, as the football game against Ashland will begin at 3:30 p.m. The contest is being shown on the American Sports Network, allowing fans from across the country to enjoy the clash between the Bulldogs and the Eagles.
"Tailgating will begin at 11:30 a.m., and our welcome tent will be staffed until kickoff," Behrenwald said. "It's always good to have people come home as some haven't returned in a long time. We want to greet them and hear their stories before we all enjoy the homecoming game."
The Alumni Association will hold its annual reunion event Friday, Sept. 23, beginning at 5:30 p.m. in the University Center Ballroom. Alumni Relations Coordinator Kevin Bunce said that they will induct Ferris' Class of 1966 into the Golden Eagle Society, with individual alumni and current students also being honored at that event.
"We will also welcome alumni of the Pharmacy program, as a group of 1976 graduates have chosen homecoming weekend for their reunion," Bunce said.
Students wishing to acquire tickets for the homecoming comedy show, featuring Natasha Leggero and Michael Che on Thursday, Sept. 22 at Williams Auditorium, can pick up tickets by bringing their student ID to the CLACS office beginning Monday, Sept. 19. Tickets will be available from 8 a.m. to 5 p.m. each day until the evening of the show. The student homecoming committee will have their judges review residence halls and departments on campus who decorated their areas in the "We the Bulldogs" theme between noon and 5 p.m. Monday, Sept. 19. Students are invited to dress in America-themed outfits, and post photos, using the hashtag #FerrisSpirit2016.
An event beginning on the Sept. 19 that supports the United Way campaign on the Ferris campus is a puppy bowl fantasy draft, which will be conducted on social media beginning at 8 a.m. That voting will continue until 6 p.m. Thursday, Sept. 22. Monday evening concludes with a kickball tournament at Top Taggart Field beginning at 7 p.m., and students are encouraged to pre-register and check with registration officials if you would like to join a team and make new friends.
On Tuesday, Sept. 20, voting for homecoming royalty begins at 8 a.m. and students are invited to select the male or female candidate of their choice using OrgSync. United Way 5K shirts will be available in the CLACS office from 8 a.m. to 5 p.m., and the Lip Sync Competition will provide another opportunity to support United Way. The theme for the event is "Transformation Tuesday," and participants will pick an artist, showing how their style and music have changed over time. The audience contributes their pocket change in voting for their favorite act.
Wednesday, Sept. 21 is the day that students should display their tourist gear and post their travels through social media with the hashtag #FerrisSpirit2016. CLACS' coordinator of the Career and Volunteer Center, Mickey Albright, said that they encourage students to register for that evening's 5K run/walk and Color War by using OrgSync. Ferris staff and members of the community are encouraged to register in the South Quad, beginning at 6 p.m. The run/walk begins at 8 p.m., with the Color War to follow in the South Quad.
"The United Way supports community service organizations that benefit Ferris students, and the Mecosta-Osceola county community," Albright said. "We hope all friends of the Bulldogs will help us reach a goal of $3,000 contributed during homecoming week."
Thursday, Sept. 22 will see the conclusion of puppy bowl voting as well as the end of homecoming royalty balloting at 11:59 p.m. Any tickets to the Comedy Show in Williams auditorium available as of 5 p.m. that day will be distributed first come, first serve at the auditorium box office.
Friday, Sept. 23 is Ferris Pride Day, and the #FerrisSpirit2016 hashtag can be used to document the pictures of those wearing pride gear. The traditional bonfire will be held at 8 p.m. in parking lot 61, between Brophy and McNerney halls.
On Saturday, Sept. 24, the day begins for Pharmacy alumni with a brunch in the University Center, beginning at 9:30 a.m. in UCB Room 202.
The College of Arts, Sciences and Education, the College of Business, the College of Engineering Technology, Ferris' Office of Multi-Cultural Student Services and Black Alumni, and the College of Pharmacy will join the Alumni Association in opening tents along "Reunion Row" at 11:30 a.m. in Lot 37, near Top Taggart Field. Behrenwald said the Alumni Association hopes to entertain and feed current and former Ferris friends during that time, as they have confirmed registrations from Alabama, Virginia and Illinois, as well as Michigan.
"We'll be providing walking tacos, and other munchies," Behrenwald said. "We will have a caricature artist on site, and other carnival-themed entertainment."
The homecoming parade through downtown Big Rapids will begin at its traditional time of 12 p.m.
The day's activities conclude with the OMSS/Black Alumni Social in the private dining room of the 52 Grill, in the Holiday Inn Conference Center on Perry Street, from 8 p.m. to 12 a.m.


PHOTO CAPTION: "We the Bulldogs" is the theme for Ferris State University's 2016 homecoming celebrations, with a schedule of events beginning Monday, Sept. 19, continuing through Saturday, Sept. 24th. This is the 90th homecoming celebration on the Ferris campus. Shown in the second photo are 2015 grand marshals Tyler (left) and Rex (right) Schuberg.