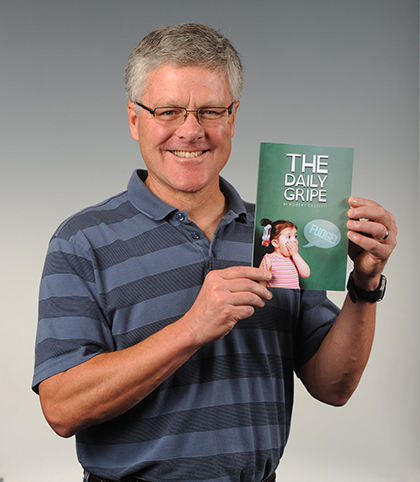 Robert Eastley has spent more than three decades as an associate professor in Ferris State University's College of Engineering Technology, and has authored guest columns for the Big Rapids Pioneer newspaper for more than a dozen years. The Michigan Tech University alumnus has written his first book, "The Daily Gripe," a compilation of humorous observations on daily life, released this summer by Green Ivy Publishing, based in Oak Brook, Ill.
"They are a relatively new publisher, but they don't print everything that is offered to them," Eastley said. "My contacts there don't believe there is much in the market that compares to my work. I had a good project manager, and a good editor, which made the nine-month process leading up to publishing fun, and a painless exercise."
Eastley said that he was inspired by the "Exit Laughing" columns of Ed Zern in Field and Stream magazine, and presents the humorous elements of day-to-day events, as his columns are published a few times each month. Friends encouraged him to write a book.
"It's the kind of thing you can give to your grandkids," Eastley said, and "The Daily Gripe" is dedicated to them. "Finding subjects can go in waves, and sometimes an idea comes easily, by going to a yard sale, or taking a bicycle tour. Holidays of all kinds are full of funny things. Other times, I'm working to find something to contribute by the end of a week."
Eastley participated in a couple of book signing events over the summer, and visited regional radio and television stations to talk about his work. He is not preoccupied with amazon.com reports on sales of the book.
"I've sold a modest number of them at signing events, which was nice," Eastley said. "It would be a wonderful thing to get noticed on a national scale, but it's not the expectation. I'm starting to hear from people in Denver, and Florida, who tell me I write the way they think. We'll see if the book goes viral."
After completing this 145-page book, which includes approximately 50 columns, Eastley said the possibility remains that he will assemble another compilation of his works.
"They're the type of stories that don't require too much of your time; maybe you read one while eating a bowl of cereal, or soup," Eastley said. "This is strictly an enjoyable hobby."


PHOTO CAPTION: Robert Eastley, an associate professor of Construction Technology and Management at Ferris State University has written "The Daily Gripe," a compilation of his humor columns, which was released by Green Ivy Publishing of Oak Brook, Ill. Eastley earned his associate of applied science, in 1972; bachelor of science, 1974; and master of science degree, 1984, in Civil Engineering, all from Michigan Technological University. He joined the Ferris faculty in 1982.