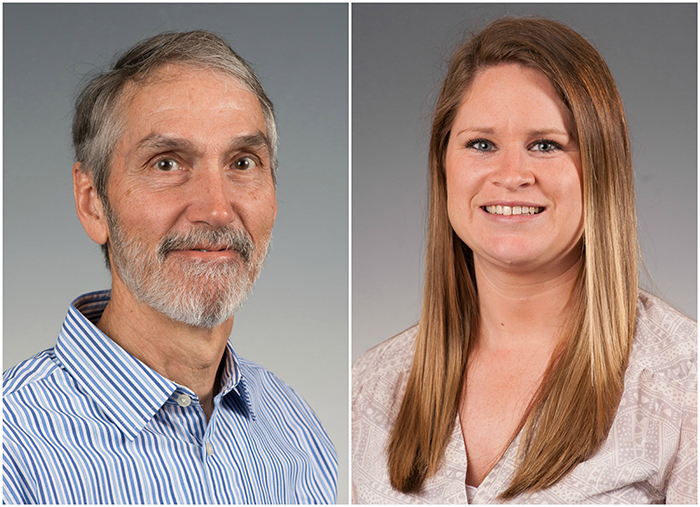 Ferris State University's Birkam Health Center is a scene of change, as the recently renovated facility has welcomed a new staff physician, Dr. Peter VanDeMark, and nurse practitioner, Christy Bourdlais, to help students, their families, and other targeted university groups to achieve their optimum level of health.
VanDeMark began seeing patients at the center earlier this year, and said that he was pleased to continue more than 30 years of practice in the Big Rapids area, having been on the staff of Spectrum Health-Big Rapids Hospital.
"My specialty is internal medicine, which meant my clientele was usually older adults," VanDeMark said. "A friend familiar with Ferris' situation contacted me about this opportunity. With a new director (Lindsay Barber) now in place, I'm looking forward to our offering expanded services at the center."
Bourdlais brings experience as a labor and delivery nurse at Spectrum Health-Big Rapids Hospital, and more recently, service with Primary Care Partners to her new position with her alma mater. Bourdlais, a native of DeWitt, graduated from Ferris with a Bachelor of Science in Nursing, in 2010, and completed her Master of Science in Nursing, as a Certified Nurse Practitioner from the University of Cincinnati in 2014. Her specialty areas include contraception counseling and treatment, well-woman exams, sexually transmitted infection counseling and treatment and fertility planning and issues. Bourdlais is pleased to be back on campus in a professional role.
"I guess you could say that I never really left Big Rapids, as I took my master's training online," Bourdlais said. "I love my work, here, as there are opportunities in my work schedule that support family life. I am enjoying the chance to work with students who are near my age."
VanDeMark said that as a parent with grown children, he has a perspective on how Birkam Health Center offers an important service to the campus community.
"Looking back on when I had children in college, I know it can be worrisome for parents," VanDeMark said. "I'm enjoying meeting students, doing sports physicals and working with sports trainers on campus."
Bourdlais said that as a board certified women's health nurse practitioner, she can offer assistance to students, whether their needs are physical or emotional.
"When students face these issues in their college experience, it is important to give them good information, and make referrals to the Personal Counseling Center, when necessary," Bourdlais said. "I'm hoping to offer them services that are necessary to their life goals and planning, rather than leave them to face mishaps which could impact those plans."
The Birkam Health Center is located at 1019 Campus Drive, and has office hours Monday through Friday from 8 a.m. to 5 p.m. The clinic is open from 8 a.m. to 11:30 a.m., and 1 p.m. to 4:30 p.m., Monday through Friday. Appointments are strongly advised.


PHOTO CAPTION: Dr. Peter VanDeMark (left) and Nurse Practitioner Christy Bourdlais have begun their duties at Ferris State University's Birkam Health Center. VanDeMark's professional background has been in internal medicine, and Bourdlais is board certified to assist students and other clients in women's health issues.