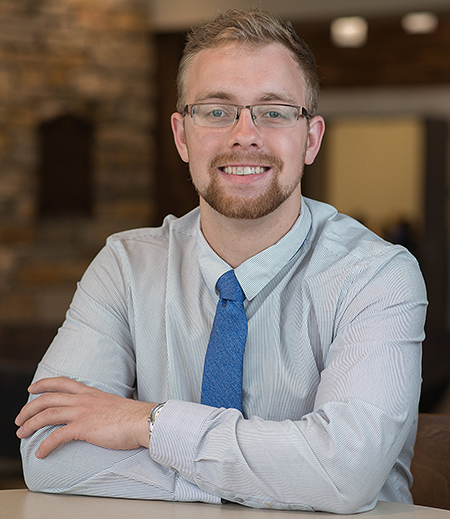 There is no "five-year plan" necessary for Aaron Zebolsky, as the Marshall, Mich. native was able to combine significant academic accomplishment at Ferris State University with what he hopes is an ongoing benefit for Big Rapids Public Schools students in just three years on campus.
Zebolsky came to Ferris in 2013 with several credits earned through advanced placement classes at Marshall High School, and approached his collegiate studies year-round as an Honors student to complete his Bachelor of Science degree in Biology, Pre-Medicine and graduate during the College of Arts, Sciences and Education ceremony on Friday, May 6. Zebolsky will still be 20 years old when he receives his diploma, but doesn't feel that he rushed through his university studies.
"Professors were always telling me to slow down when I spoke in class," he said. "I was kind of notorious for talking fast. Academically, things went about the way I expected."
Zebolsky has taken the MCAT, or Medical College Admission Test and said applying to medical schools has been his major focus in the last year.
"From what I've read, the average age of medical school applicants at this time is 24 years old," he said. "Being young is a bit of a complicating factor."
Zebolsky is on a wait list to gain admission to Michigan State University's College of Human Medicine. He is not standing pat to see how that opportunity develops, as he considers a Master of Science program in Cancer Chemical Biology at the University of Michigan.
"It's a relatively new program that started in 2012, and they admit seven to 15 students each year," Zebolsky said. "I do want to pursue a career in oncology, and this would be very relevant to what I hope to accomplish. A master's from Michigan won't look bad, if I apply to other schools."
The Honors program at Ferris requires its students to join an RSO, or Registered Student Organization and complete 15 hours of community service per semester, a use of their "time and energy to advance the public good." Beyond participation in the Pre-Med club, Zebolsky spent the academic year as president of the National Society of Collegiate Scholars. This followed a year on the NSCS executive board, as he was vice president of PACE, or Plan to Achieve Collegiate Excellence. The program allows middle schoolers who were academically capable to receive mentoring, and exposure to post-secondary opportunities.
"In the summer of 2014, I proposed this program to Lenore Weaver, the Big Rapids Middle School principal, and a counselor, Julie Jancek," Zebolsky said. "They were very receptive to the idea, as a lot of kids were not considering college as an option, based on their family background."
The PACE mentors are NSCS students, who schedule weekly visits during the middle schooler's lunch hour. There have been between 20 and 30 Ferris mentors visiting individual adolescent students, with some level of mentoring occurring daily at the middle school. Aaron, who has a brother with Down syndrome, has been meeting this academic year with Kirk, who also has the genetic disorder.
"Science class is great for both of us, and I believe he is getting a lot out of our visits," he said. "The second week I came in, he remembered me, even though our visits are often just 30 to 45 minutes. We also enjoy playing games of four-square."
Zebolsky said he was also given the opportunity to offer support Kirk outside of the classroom, as his mother welcomed Zebolsky to watch her son play hockey for the Big Rapids Ice Dogs.
"It's been a positive relationship in many ways, both academically and socially," he said.
The mentors in PACE were also able to host students for a "March to College" event April 22 on the Ferris campus. During the half-day schedule, Aaron said that participants heard from Ferris Honors program director Peter Bradley, had a scavenger hunt on campus and enjoyed lunch together.
"We hoped to give them a unique experience that would encourage them," Zebolsky said. "It also serves as a chance to illustrate the impact that PACE is having in the Big Rapids schools."
Fellow Honors program student Katie Michalski will advance from PACE leadership, to an executive role in the NSCS next year, and Zebolsky said he is confident the university's participants will benefit along with their mentees at the middle school.
"It's a little sad leaving Kirk, but I feel the PACE program is in good hands, and will continue to grow," Zebolsky said. "I feel great knowing it will continue after I leave here, and that Katie is following a similar path to mine. She's committed to continuing and advancing what has been accomplished."
Zebolsky looks back over these three active years on the Ferris campus with a great deal of pride and happiness.
"Involvement in the organizations has helped me develop a broad group of friends, and it's been great hanging out with them," he said. "I've loved the social environment on campus, attending athletic events and participating in intramurals."
It is anticipated that 1,750 graduates will take part in one of eight commencement ceremonies on May 6 and 7 in Big Rapids, as approximately 2,400 Ferris students complete their degree programs in the Spring 2016 semester.

PHOTO CAPTION: Aaron Zebolsky, of Marshall, Mich., will graduate from the College of Arts, Sciences and Education in a ceremony that will take place Friday, May 6 in Big Rapids.