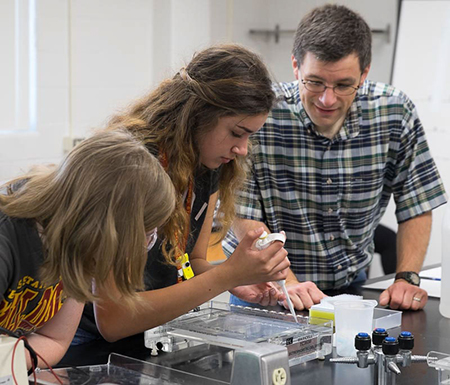 See a preview video of 2016 summer academic camps
Students from elementary through high school grades will have the opportunity to enjoy a variety of residential and day camp programs offered by Ferris State University during the Summer 2016 semester, on both the Big Rapids and Grand Rapids campuses.
There are a total of 16 sessions exploring learning in STEM disciplines, writing and architecture, according to Extended and International Operations interim dean Cheryl Cluchey.
"The summer academic camps attract students from across Michigan, and beyond," Cluchey said. "Campers are given the opportunity to learn more in-depth concepts in areas they are interested in, with hands-on, activity based learning. Residential camps also enjoy team building activities such as bowling, use of the university's ropes course and going to the Student Recreation Center. All programs are taught by Ferris faculty, and counselors chosen specifically by the faculty."
Four-to five-day academic camp sessions begin Monday, June 20 and continue through Friday, July 29. Tracy Powers Hilty, interim associate dean of EIO programs in Grand Rapids, said that their offerings are focused heavily on Ferris' Digital Animation and Game Design curriculum, but they also offer a DNA Camp.
"Ferris faculty coordinate our camps, and are supported by camp counselors, who are on their own path to excellence in these fields," Hilty said. "Our commuter-based camps benefit students who might not be able to afford a residential camp experience, and accommodate those who are also involved in summer sports programs."
Most academic summer camp programs can accommodate 25 students, though the Inventor's Academy has a cap of 22 students, the HVACR Summer Academy allows for as many as 18 participants, and Bulldog Writers 2016 limits age-appropriate sessions to 15 students, each. Registration is available online, by email, fax or mail, and questions about academic camp programs can be answered by the university's Conference and Professional Services office, at (231) 591-5808.


PHOTO CAPTION: Ferris State University will present a total of 16 summer academic camps during 2016. The schedule includes a Biotechnology Camp, which will be offered from Sunday, June 26 to Friday, July 1 on Ferris' Big Rapids campus.