The 28th International Festival of Cultures is set for Sunday, April 10, in Big Rapids at the University Center on the Ferris State University campus. Above is a scene from 2015. Below is another scene from the 2015 festival. Check below for additional information and how to purchase food tickets.

Traditionally, the International Festival of Cultures has been one of Ferris State University's signature spring semester events.

That tradition continues, in 2016, as the festival is set for Sunday, April 10 in room 202 of the University Center building, from 1 to 5 p.m. Hosted by the Office of International Education and sponsored by the President's Office, the International Festival of Cultures features more than 500 international students from 40 different countries. The festival supports Ferris' mission to strengthen campus global awareness and to celebrate international cultural diversity.
"As an international student, at Ferris, I enjoy sharing my culture with the campus and community. I also enjoy learning about the cultures of my classmates from different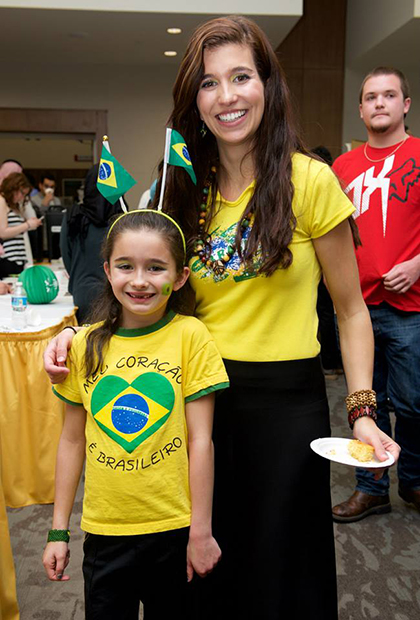 countries," said Tarun Jonnala, a graduate student in the Master of Information Security and Intelligence program, who also serves as chair of the International Festival of Cultures. "Through my experiences at Ferris, I have learned to work with people from many different cultures, which has allowed me to improve my communication skills, my problem-solving skills and my leadership skills."
In keeping with the event's tradition, students prepare and serve sample-size recipes from 30 different cultures with the help of Ferris' Dining Services staff. In addition to food, the festival features internationally diverse dancing, games, singing and more. Additionally, Artworks of Big Rapids will host a children's arts and crafts room.
Admission to the International Festival of Cultures is free. Tickets to sample food items cost 50 cents, apiece. Ferris students can bring their student ID card and receive three free tickets.
"Opportunities to interact with people from different cultures are very important," Jonnala said. "I would encourage all students and community members to come out to learn about the cultures of international students on campus and share their culture with us."
Anyone who would like to attend the festival, but requires special accommodations, should contact (231) 591-2450 or [email protected] at least 72 hours in advance. Anyone with questions related to the event can contact OIE at the same phone number and email address.

Click Office of International Education to learn more about what Ferris does in support of its international student population.