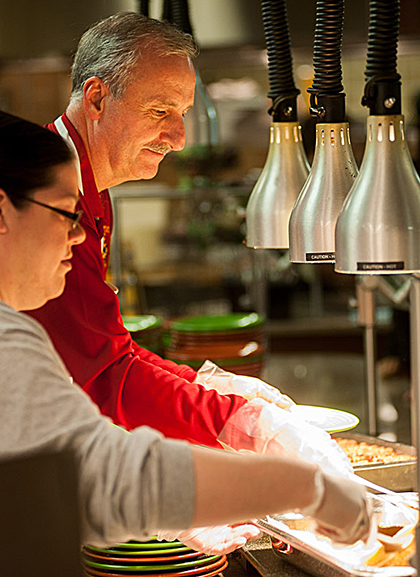 Ferris State University's Student Government Association is set to host Pancakes with the President on Monday, May 2 from 10 p.m. to midnight in The Rock Café.
Pancakes with the President is hosted during exam week of the fall and spring semesters. The event is an opportunity for students to take a study break and be served pancakes by President David Eisler as well as university faculty and staff.
"Pancakes with the President offers students, especially freshmen, the opportunity to meet with Ferris administration," said Dylan Tantalo, the incoming 2016-17 Student Government president. "The Student Government administration is looking forward to meeting with the student body for a relaxing night of free food and great prizes."
Pancakes with the President features a number of activities that include: games, trivia and a variety of opportunities to win prizes. A meal plan is not required for the event. However, students must present a valid student identification card to be admitted to The Rock Café.
Pancakes with the President is co-sponsored by Student Government, Dining Services, the Ferris Bookstore, the President's Office and the Pride Committee.
For more information about Pancakes with the President, contact the Student Government office at (231) 591-2611 or email.


PHOTO CAPTION: Vice President for Administration and Finance Jerry Scoby services pancakes to students during a past Pancakes with the President event on campus. The Spring 2016 event is set for Monday, May 2.