G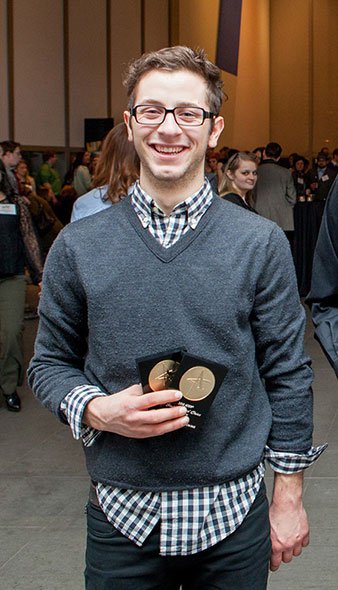 RAND RAPIDS – Ferris State University's Kendall College of Art and Design announced that Isaac Daniels, a senior Graphic Design major at KCAD who this spring won top honors among American university students in graphic design, is the recipient of the 2013-14 Friends of the Michigan State Fair Endowed Scholarship Award.

This $5000 scholarship is given annually to an academically outstanding student with financial need who shows a firm commitment to self-improvement and self-discovery.

"Just as the Michigan State Fair has recently begun another chapter of its 165-year history with new ownership and a new location in Novi, this scholarship helps KCAD students take the next step in their educational and professional development," said Sandy Britton, dean of student success and chair of the KCAD Scholarship Committee. "We're extremely grateful to the Friends of the Michigan State Fair for their generosity in giving students the opportunity to succeed, and in Isaac Daniels, we feel we have found the perfect recipient."

Like many students of graphic design, Daniels' infatuation with the medium started from experimenting with Adobe Photoshop. As he advanced through school, he was able to connect with teachers and mentors who helped him develop his passions into a versatile set of skills.

"It's funny to look back at my freshman year as a time of being so lost and not having any idea what graphic design really was," Daniels said. "As you go on though, you begin to understand this idea that process matters, because you're encouraged to stop and think before you make something."

As a freshman, Daniels got involved with the local chapter of the American Institute of Graphics Arts, and as a sophomore, he sought valuable real-world experience as a graphic design work-study within KCAD's Communications Department. He's also interned at Universal Mind, a Grand Rapids-based creative agency that specializes in user experience design. Furthermore, whenever industry-leading graphic designers paid a visit to campus, Daniels made sure he was there. Listening to Elliot Earls, head of the Graduate Graphic Design Program at Cranbrook Academy of Art, proved to be a pivotal moment during Daniels' junior year.

"It was required for seniors, but I got out of class so I could hear (Earls) speak," Daniels recalled. "He took everything I knew about graphic design and turned it on its head."

In that same year, Daniels designed and produced the first issue of Disorder, a lifestyle magazine that explores the art, music, and fashion that defines the culture of skateboarding. The publication won Gold Key Awards at the local, state, and national level of the American Advertising Federation's Student ADDY Awards and was named "Best in Show" during the national award ceremony.

Daniels will graduate in the spring, and he welcomes the transition as another leg of the journey towards mastering the art of graphic design. To start, he intends to print Disorder in bulk for distribution and sale around West Michigan, hoping to get his name circulating throughout Grand Rapids' thriving design community and eventually earn some local work. In long run however, he'd like to travel around the world, exploring new experiences and soaking up other cultures before returning to graduate school with the goal of becoming a teacher capable of inspiring the next generation of graphic artists and designers.

"Really, this scholarship gives our students the gift of possibility," Britton said. "Since Isaac arrived at KCAD, he's been the kind of person who stays motivated, inspired, and open to the world around him. He's very deserving of this award."