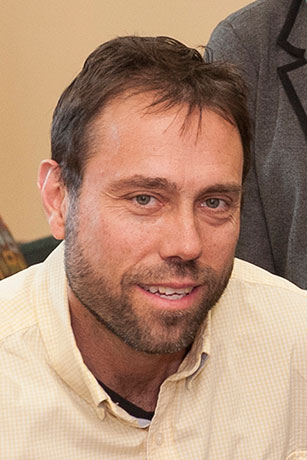 When Anthony "Tony" Baker began working at Ferris, in 1998, he started as a faculty member in the Social Sciences Department. Prior to that, he received his bachelor's degree in Sociology at Anderson University in Indiana and his Ph.D. in Sociology at University of Illinois. Despite growing up in Hamilton, Ohio, Baker considers his hometown to be Chicago, where he spent a large portion of his adult life teaching before he came to Ferris.
Baker now also serves as the director of Ferris' Hispanic/Latino Cultural Center. He also serves on the Grand Rapids Public Schools Board of Education (his current term runs through Dec. 31, 2014).
In this #FerrisSocial Conversation, Baker discusses several topics related to his experiences at Ferris and how it feels to help students be successful.
Betsy Garbe: What do you do in your job at Ferris?
Anthony Baker: I am currently the director of the Hispanic/Latino Cultural Center here at Ferris. This Center is an initiative by the provost's (Fritz Erickson is provost and vice president for Academic Affairs at Ferris) office to more fully connect the mission of Ferris to Latino communities. This includes supporting a campus community center that connects Latino and non-Latino students, as well as creating academic partnerships with communities throughout West Michigan.
Prior to this position, I taught Sociology for 15 years in the Social Sciences Department.
BG: What attracted you to CLS director job?
AB: I love working in the broader community and I believe strongly in connecting the resources of the university to that broader community. I love seeing how people live their lives and organize their faith, neighborhoods, schools and family. I believe strongly that education needs to be made available in every arena of society. This job gives me the chance to look for new opportunities to make education more available in places that seem inaccessible.
BG: What about your job makes you smile?
AB: I love it when students see the world differently. I have seen kids learn that they can make it in ways they never imagined. When they realize this vision, I smile. I also really smile when I get to encourage students to cross boundaries that limit their interaction with those that are different from them. I take students outside of the comfort of the classroom and take them to neighborhoods that challenge their perceptions of the way life can be. When these students begin to embrace these new ways of seeing the world, it is very fulfilling.
BG: What is it like helping students be successful?
AB: It feels incredible … especially, when I get to help students to learn how to learn from others. That kind of success will transcend their specific skill development and prepare them to enjoy navigating the world for decades.
BG: What advice would you most like to give students?
AB: Cross boundaries. Go to places that are unfamiliar or uncomfortable and become connected to that place. We learn best when we experience and thrive in settings where we grasp for unlikely connections.


This question-and-answer video was compiled by Betsy Garbe, a News Services and Social Media student writer in University Advancement and Marketing.