LANSING – Gov. Rick Snyder has appointed Ana Ramirez-Saenz, of Rockford, and Rupesh Srivastava, of Franklin Village, to serve on the Ferris State University Board of Trustees. Ramirez-Saenz and Srivastava will serve eight-year terms that expire Dec. 31, 2022. Their appointments, effective Jan. 1, 2015, are subject to the confirmation by the Michigan senate.
"Ana and Rupesh are talented professionals and bring valuable experience to the board," Snyder said. "I am confident they will do great work for Ferris State."
Ramirez-Saenz is CEO and owner of La Fuente Consulting LLC. She was previously the assistant product manager, and marketing and training manager in leasing and financial services, for Steelcase Inc. Ramirez-Saenz served as past chair of the Clark Retirement Community Finance Committee, board member and events chair for the Ellington Academy for Arts and Technology, and serves on boards for the Grand Rapids School Foundation, the YMCA of Greater Grand Rapids and the Grand Rapids Community College Foundation Board. She earned both a bachelor's degree and an MBA from the University of Michigan.
Srivastava is president, CEO and founder of both Youngsoft Inc. and H2H Solutions. He serves on the board of Young Executives for Skyline and is chairman for TIE Detroit. Srivastava is a founding member of Ynotlearn and Car4nurses. He was a Crain's Detroit Business "40 under 40" honoree in 2005, was awarded the Pride of India Gold Award in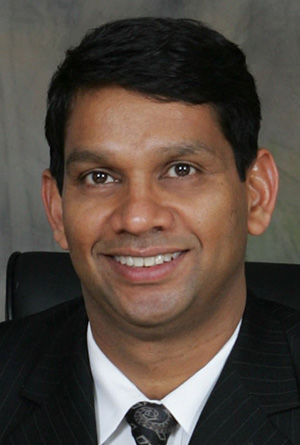 2006, and received the Salute to Excellence Award from the Asian Pacific Chamber of Commerce in 2007. Srivastava earned a bachelor's degree from Ranchi University in Jharkhand state in India.
The governor's new appointments replace outgoing board members Dr. D. William Lakin and Sueann Walz.
Lakin, of Clinton Twp., was appointed to the Ferris Board of Trustees March 25, 2010 by then-Gov. Jennifer Granholm. He filled a seat that was previously held by Patrick W. La Pine. Lakin is managing partner and senior optometrist of Family Eye Care Associates. For the past several months Lakin has served as board secretary.
Walz, of Big Rapids, was appointed by Gov. Granholm on March 7, 2007. For the past several months she has served as vice chair of the board. Now retired, Walz served as assistant vice president and branch manager of Independent Bank West, where she was employed for more than 30 years. She is a member of The Ferris Foundation Board of Directors and the university's Founder's Club.
"We are very grateful for the many contributions of Sueann Walz and Bill Lakin as members of our Board of Trustees," said Ferris President David Eisler. "Both have been very actively engaged with the university, our programs, students and our campus community. Ferris State University has been fortunate to have them as trustees and we have all benefited from their distinguished service."
Board Chair Gary Granger also praised outgoing trustees Lakin and Walz.
"As a long-time leader in the Big Rapids community, Sueann Walz has been a tireless promoter and supporter of the university," Granger said. "Sueann's passion for all things Ferris will be greatly missed on our Board. Dr. Lakin has a family tradition at Ferris. His father was a member of the Optometry faculty at Ferris. His own professional experience as an optometrist has been a great asset during this time when our Michigan College of Optometry has become a true national leader. Although they will be missed, we look forward to the fresh perspectives our new members bring with them to the mission of moving Ferris forward."
In addition to Granger, Lakin and Walz, the current Ferris Board of Trustees includes Alisha Baker, of Mount Clemens; Paul Boyer, of Ada; Erin Brown, of East Lansing; Lori Gwizdala, of Bay City; and Arthur Tebo, of Walloon Lake.