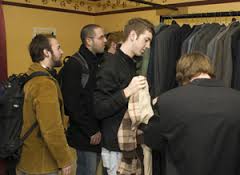 Ferris State University's First Lady's Attic has registered more than 1,400 students since 2009 in an effort to help ensure male and female students are dressed appropriately for success in an interview or for a class presentation.

Items that have been supplied to students from First Lady's Attic include: 319 men's suits, 459 men's long sleeve dress shirts, 111 women's suits, 167 women's blazers and 252 blouses. Items in First Lady's Attic are available thanks to donations of professional attire as well as cash gifts. Accepted clothing donations include: men's and women's professional suits, shirts, blouses, dress pants, skirts, blazers, dresses, shoes, ties, scarves, belts, jewelry, purses and briefcases.

Donations to First Lady's Attic may be tax deductible and can be dropped off at Pete's Cleaners in Big Rapids (115 Hemlock Street), a community supporter of the First Lady's Attic, or at the Ferris' Diversity and Inclusion Office, located in Timme Center for Student Services, Room 312.

First Lady's Attic is located in Helen Ferris Hall, Room 125.