Ferris State University students gain valuable work experience through internships. Internships also can confirm or redirect career decision-making, provide marketability, develop people skills and enhance classroom learning. Many academic programs require one, but the experience is encouraged regardless to provide students with a better understanding of what will be expected of them in the workplace.
Many students are participating in myriad internships this summer. Meet: Matthew Wissink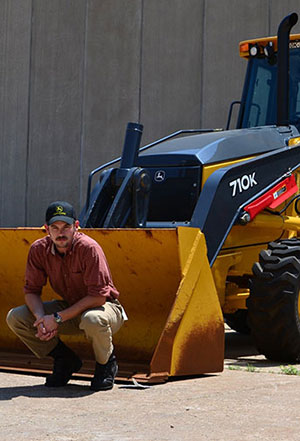 He is: A senior from Big Rapids majoring in Manufacturing Engineering and Welding
Internship: Matt is interning in Dubuque, Iowa, one of Deere's largest factories for building construction and forestry equipment. Deere is the largest manufacturer of agricultural machinery in the world. The company is also a leading supplier of equipment for construction, forestry, and turf care.
Matthew landed the paid internship after a recruiting group came to Ferris to present summer work opportunities. He was flown to Iowa for a second interview and was offered the internship late last fall.
What he's learning: Matthew has had several projects assigned to him during his internship, including improvement of current production processes.
"I really enjoy the opportunity to interact with shop floor operators and see results from corrective action steps that I've helped implement," he said.
The internship has helped to confirm Matthew's career choice and made him thankful "for the opportunities that Ferris offers," he said.
"The knowledge gained at Ferris has helped me adjust to the production atmosphere quickly and produce in the work environment. The attention to detail by my professors has also helped me create detailed documents to represent the changes that I propose. "
Something cool: "The 'ride and drive' event is a really cool experience at John Deere," Matthew said. "One day during the summer, interns are invited to operate almost any piece of equipment produced at a respective facility. The event helps make the connection between projects you've been working on all summer and the customers who actually use the product."
Core value: Matthew has found Ferris' core value of diversity emulated in his internship.
"John Deere is a global company, and on more than one occasion I've been a part of international meetings," Matthew said. "Diversity allows a wide range of knowledge and background to influence decisions that have unique approaches."
On campus: Matthew is president of the Formula SAE car project team.
"Interning with John Deere has taught me a lot about leading a production team and assigning precedence to work tasks," he said. "I hope to take these skills and apply them to the Formula team at Ferris."
His plan: After Matthew graduates in the spring of 2014, he hopes to get a job with an outdoor gear producer.
"I enjoy outdoor activities and would like to stay linked to the outdoor culture."