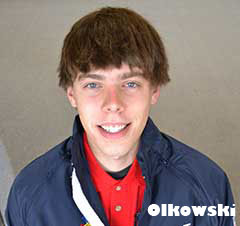 Two Ferris State University students will represent the United States in the biennial WorldSkills Competition in July in Leipzig, Germany.

Kieron Kohlmann and Ronald Olkowski, juniors in Ferris' College of Engineering Technology, advanced to the 42nd international event after competing in the WorldSkills Americas competition in Sao Paulo, Brazil. The U.S. team competed against 23 other countries.

Kohlmann, an Automotive Engineering major from Racine, Wisc., will compete in the Automobile Technology category. He earned a spot on the SkillsUSA WorldTeam by winning the gold medal and received "best in nation" in Auto Service Technology during the WorldSkills Americas competition.

"I was quite surprised when I won gold," said Kohlmann, who also won the high school gold medal during the SkillsUSA Championships in 2010. "The vehicles we had to work on in Brazil were not available in the United States and the service manual I had was incorrect. It posed a large challenge that my competitors didn't have."


He is thrilled to be competing in Germany this summer.

"To me, being selected for the WorldTeam is like going to the Olympics," Kohlmann said. "In preparing for this contest, I will be training with industry professionals and meeting so many new people. It is such an honor and privilege, not only to be selected, but also to be a part of an organization that truly cares about skilled trades."

Kohlmann, who said he has always been interested in working with cars, said he learned about the Ferris program during the 2010 SkillsUSA contest and decided it would make an excellent career.

Olkowski, a Manufacturing major from Washington, Mich., who attended Romeo High School, was awarded the bronze medal in Computer Numeric Control (CNC) Turning and will compete in the same category in the WorldSkills Competition.

"I'm looking forward to meeting other people from around the world and seeing what they have to bring to the table. I'm also interested in learning new methods of machinery," said Olkowski, who won the high school silver medal at the 2010 SkillsUSA Championships as well as the college/postsecondary bronze medal at the 2011 event. "I've never seen the machines that I'll be competing on, so I'm a little nervous about learning the software and getting familiarized with the machines and getting the software and the machines to work together."

Olkowski was honored by Ferris' College of Engineering Technology with the 2011-12 Student of the Year Award.

SkillsUSA competitions begin locally and continue through the state and national levels. They are designed for high school and college students preparing for careers in trade, technical and skilled service occupations.

More than 1,000 competitors will be testing their skills during the WorldSkills Competition. About 5,000 international experts, delegates and judges will gather from around the world, and 3,000 volunteers will be recruited to assist in the event. A total of 150,000 student and public spectators are expected to attend.