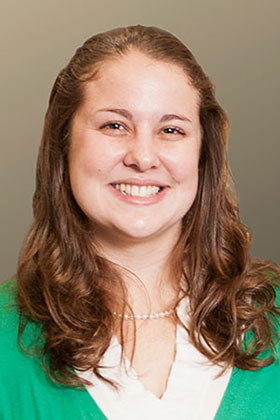 Ferris State University Public Relations major Elizabeth Michalski has been named a finalist in the PRWeek Student of the Year national competition.
Michalski, a senior from Cass City, will travel to New York City Jan. 17 and 18 to test her public relations skills in a contest that awards the winner $5,000 and a paid internship at one of the world's largest PR firms.
"I was shocked," said Michalski, who serves as vice president of client relations for Ferris' chapter of the Public Relations Student Society of America. "It's exciting, because it shows that everything I've learned at Ferris has paid off. And this will get our name out there at a national level."
Michalski is one of five finalists chosen from a field of 104 applicants who submitted a public relations campaign for The Marine Corp Recruiting Command, a client of Hill+Knowlton Strategies. The New York-based PR firm sponsors the PRWeek contest.
Her entry began as a requirement for students in associate professor Patrick Bishop's public relations cases class. Applicants devised a public relations campaign to showcase the Marine Corps' "Toward the Sounds of Chaos" advertising campaign targeting 18- to 34-year-olds that highlights the diversity of its missions.
"I'm so proud of Liz," Bishop said. "She has consistently been one of the top students in the PR program, and she worked hard to earn this national recognition. This is an incredibly prestigious award; to be named one of the top five PR students in the U.S. is a great accomplishment for Liz and Ferris' PR program."
During the final day of judging, the finalists will pitch their campaigns to the client and several PR professionals. They then will be assigned to develop a response for a fictional crisis scenario and present that to the judges.
Students will be judged on creativity, presentation, writing ability, understanding of PR principles and strategy, and oral presentation skills. The judges will choose two finalists who will return to New York for the annual PRWeek Awards ceremony March 7 in New York.
While winning the competition would be wonderful, Michalski said being a finalist fuels a confidence in her chosen career. She expects to graduate in May with a bachelor's degree in business.
PRWeek is a weekly trade magazine for the public relations industry.
Ferris hosts the only public relations program in the U.S. that awards graduates a business degree and the only one in Michigan to be certified by the Public Relations Society of America, the nation's largest network of PR practitioners. For more information, visit the Ferris Public Relations Program.